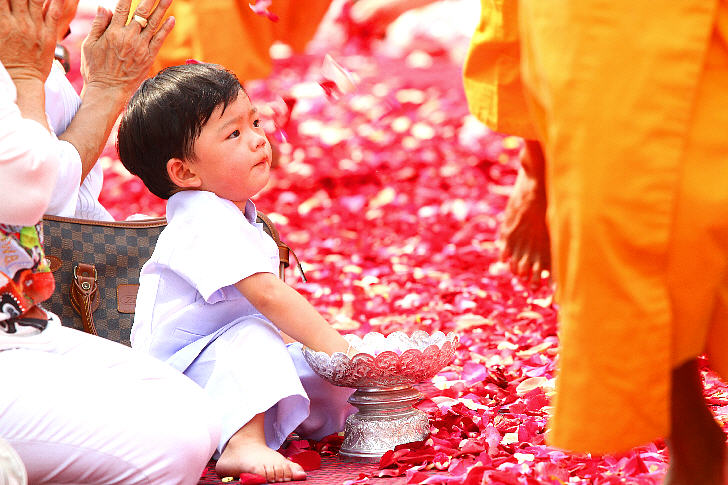 Top 10 Destinations in Thailand
Thailand is a beautiful kingdom, featuring Buddhist temples, exotic wildlife, and spectacular islands. With a fascinating history and a unique culture that includes delectable Thai food and massage, Thailand features a modern capital city and friendly people who epitomize Thailand's "Land of Smiles" reputation. Find out what the Top 10 destinations in Thailand are as awarded by millions of real travelers in the TripAdvisor – 2014 Travelers' Choice Awards.
1. Bangkok
Bangkok is full of exquisitely decorated Buddhist temples—as you go from one to the next you'll be continually blown away by the craftsmanship and elaborate details. But if you'd rather seek enlightenment in a gourmet meal, or dance the night away, you'll also enjoy Bangkok—the restaurant and nightclub scenes here are among the best in the world.
Recommendations by TripAdvisor
– The Grand Palace
– Temple of Dawn (Wat Arun)
– Museum of Contemporary Art (MOCA)
Search all flight deals to Bangkok

Recommended reading: 17 Places to visit in Bangkok
2. Chiang Mai
Chiang Mai is a study in vibrant contrasts—here, ancient temples (over 300) are as much of a draw as trendy bars, hotels and restaurants. You'll also find adventure activities (like white-water rafting tours) and a wide range of spas.
Recommendations by TripAdvisor
– Wat Phra That Doi Suthep
– Wat Chedi Luang
– Patara Elephant Farm
Book a local tour in Chiang Mai for cruelty-free elephant sanctuary which received more than 400 positive reviews. Don't Ride, Bathe Them!
Search for all flight deals to Chiang Mai

Recommended reading: Popular attractions in Chiang Mai for your first visit
3. Pattaya
Situated on the east coast of the Gulf of Thailand, Pattaya receives millions of visitors annually. Family-friendly Jomtien Beach makes a pleasant contrast to crowded, polluted Pattaya Beach, with its jetskis and beach bars. Daytrips to nearby island groups are popular diversions, as are days spent at Pattaya's 21 golf courses and slew of amusement parks. Although more families are now visiting the city, most tourists flock for Pattay's legendary nightlife. Baht bus routes cover main streets.
Recommendations by TripAdvisor
– Nong Nooch Tropical Botanical Garden
– Sanctuary of Truth (Prasat Sut Ja-Tum)
– Flight of the Gibbon
Search for all flight deals to Pattaya

Search for Hotel deals in Pattaya
4. Patong
Party-hoppers flock to the wide and whimsical sands of Patong Beach. Mere minutes from the glittery chaos of Patong's many nightclubs, bars and discos, the golden beach is ideal for sunbathing, jet skiing, kayaking and parasailing. Lovers of leisure can spend the day relaxing on a sunbed under a colorful umbrella, lingering over treats from one of the vendors who stroll the sands.
Recommendations by TripAdvisor
– Freedom Beach
– Danze Fantasy Theatre
– Bangla Road
Search all flight deals to Phuket

Recommended reading: 10 must see attractions in Phuket for your first visit
5. Khao Lak
Just 80 km north of Phuket, Khao Lak was essentially erased by the 2004 tsunami. But the town, and the tourist industry it relies on, has rebounded. It remains quieter than other coastal destinations, offering secluded beaches, tranquil nights and family-oriented activities. You want full moon parties and besotted nights? You're out of luck. But if you're looking for unparalleled scuba diving in the Similan Islands, you've hit the jackpot.
Recommendations by TripAdvisor
– Pak Weep Beach
– Khao Lak Land Discovery – Day Tours
– Liquid Adventure – Day Tours
Search all flight deals to Phuket

Search for Hotel deals in Khao Lak
6. Bophut
Learn to dive, sunbathe on a sandy beach or indulge in inexpensive spa services (including amazing Thai massages) in Bophut, a beach village that recently has become home to many new hotels and villas. Try the main street for trendy shops and restaurants, or visit the Fisherman's Village for more traditional shops.
Recommendations by TripAdvisor
– CSI: SAMUI Dive School
– Samui Boat Charter
– Chantara, Junk Boat
7. Krabi Town
The southern Thailand town of Krabi serves as base camp for exploring the province of the same name, a lush region of jungles, limestone cliffs and idyllic isles floating just offshore in the Andaman Sea. Buddhist shrines still used by local monks are tucked into the chambers of the town's top attraction, Tiger Cave. The riverside pier links travellers with ferries and longboats to the best scuba diving, rock climbing and white sand beaches on the coast.
Recommendations by TripAdvisor
– Phranang Full Moon Kayaking
– Phra Nang Beach
– Tiger Cave Temple (Wat Tham Sua)
Search for all flight deals to Krabi

Search for Hotel deals in Krabi
8. Rawai
Rawai is an off-the-beaten-path area of Phuket that attracts devotees of Muay Thai martial arts. Training centers here teach all levels, from absolute beginner to world champion. On the opposite end of the vacation spectrum, there's the Phuket Seashell Museum, an immense collection of delicate specimens from around the world. A visit to the Sea Gypsy Village on the eastern end of Rawai Beach is a transformative experience.
Recommendations by TripAdvisor
– Nai Harn Beach
– Simba Sea Trips
– Andys Scuba Diving Phuket
Search for Hotel deals near Rawai
9. Hua Hin
A favorite getaway for Bangkok residents, Hua Hin is a pretty beachside town. Family friendly and relaxed, it lacks the all-night partying and seedier aspects that make other nearby beach resorts a haven for unsavory characters. Once a small fishing village, it was transformed into a royal resort, and it's these close links with Thai royalty that ensure Hua Hin won't become overdeveloped or lose its small-town vibe.
Recommendations by TripAdvisor
– Banyan Golf Club
– Huay Mongkol Temple
– Hutsadin Elephant Foundation
Search for Hotel deals in Hua Hin
10. Chaweng
Paradise by day, party central by night, Chaweng is a favorite destination for sun-seekers and night owls alike. Choose Central Chaweng if you love nightclubs, music and fireworks. Head toward North Chaweng and Chaweng Noi for a more peaceful stay.
Recommendations by TripAdvisor
– Samui Football Golf Club
– Samui Institute of Thai Culinary Arts
– On Street Bar samui
_____________________
See Singapore long weekend in 2018.
You may also be interested: