25 must visit in Malaysia
One of the world's top holiday destinations, Malaysia is filled with a wide variety of unique attractions; from pristine beaches and breathtaking islands to a rich tapestry of cultures and history, from well-preserved heritage treasures to fascinating nature reserves and adventures, from a delightful array of mouthwatering local cuisines to a long list of shopping hotspots, you can surely find something that suits you and yours in this list of 25 must visit in Malaysia.
1. Petronas Twin Towers, Kuala Lumpur
Soaring to a height of 451.9 metres, the 88-storey twin structure is Kuala Lumpur's crown jewel. Majestic by day and dazzling at night, the Petronas Twin Towers is inspired by Tun Mahathir Mohamad's vision for Malaysia to be a global player. Together with Argentine American architect César Pelli, the international icon powerfully captures the nation's ambitions and aspirations. It was the tallest buildings in the world from 1998 to 2004 and remain the tallest twin towers in the world. The buildings are a landmark of Kuala Lumpur, along with nearby Kuala Lumpur Tower.
Must do:
– Sky bridge at levels 41 & 42: The world's highest double-decked bridge provides a stunning vantage point of Kuala Lumpur, facilitates movement and functions as an escape route in case of emergencies.
– Observation Deck at level 86: At 360 metres, you'll be able to see a spire up close and enjoy breathtaking views of Kuala Lumpur.
Book Accommodation in Kuala Lumpur
2. KL Tower (Menara Kuala Lumpur), Kaula Lumpur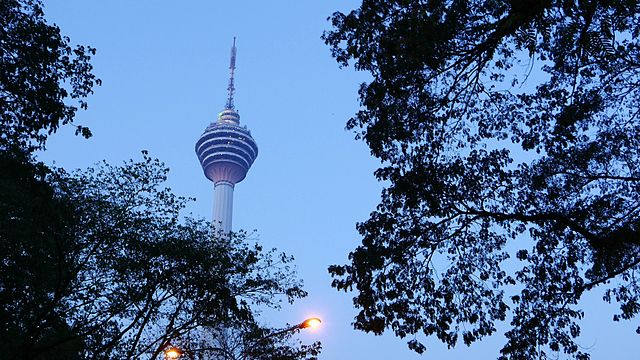 Under CC BY-SA 4.0
KL Tower is the seventh tallest telecommunication tower in the world. Standing at 421 metres on top of Bukit Nanas, located in the heart of Kuala Lumpur, it is one of the city's most popular landmarks.
According to Wikipedia, "The tower also acts as the Islamic falak observatory to observe the crescent moon which marks the beginning of Muslim month of Ramadhan, Syawal, and Zulhijjah, to celebrate fasting month of Ramadhan, Hari Raya Aidilfitri and Aidiladha. The tower is the highest viewpoint in Kuala Lumpur that is open to the public."
Must do:
– Observation Deck: Get a stunning bird's eyes view of the city at 276 metres above ground level.
– Atmosphere 360: Savour a truly unforgettable and luxurious culinary experience in a revolving restaurant while enjoying a 360° view of the city at 282 metres above ground level.
– Visit KL Tower's 1Malaysia Cultural Village, Animal Zone, XD Theatre and F1 Simulator Zone.
Book Accommodation in Kuala Lumpur
3. Batu Caves, Selangor
Made up of three main limestone caves, Batu Caves feature temples and Hindu shrines. It attracts thousands of worshippers and tourists, especially during the annual Hindu festival, Thaipusam.
One of its main attractions is the 140-feet-high golden statue of Lord Muruga at the entrance, besides a steep 272 climb up its steps to finally view the stunning skyline of the city centre. Monkeys frolic around the caves, and it is a popular spot for rock climbing enthusiasts. Paintings and scenes of Hindu Gods can also be seen in the Ramayana Cave.
Must do:
– Visit Batu Caves during Thaipusam (falling from mid-January to mid-February in the Gregorian calendar) where you will witness a colourful procession of Hindu devotees carrying kavadi as offerings to Lord Muruga.
4. Cameron Highlands, Pahang
Cameron Highlands, Malaysia's largest highland resort is located on the Titiwangsa Range around 1,500 metres above sea level. There are many relaxing activities which you can do here; you can walk through lovely little villages, visit the butterfly, strawberry, honey bee farms and sprawling tea plantations or have meals at the delightful Tudor-styled country inns. Nothing can beat the cool weather and a few days up here out of the sweltering lowland heat will surely recharge you.
Must do:
– Visit the BOH Tea Plantation to learn about tea-making process and enjoy a steaming cup of tea in full view of the tea plantation.
– Pick your own strawberries to take home.
– Enjoy a relaxing walk in the enchanting Mossy Forest.
5. Kinabalu Park, Sabah
Kinabalu Park or Taman Kinabalu in Malay, is Malaysia's first UNESCO World Heritage Site and home to Malaysia's highest mountain, Mount Kinabalu. It is one of the most important biological sites in the world with more than 4,500 species of flora and fauna, including 326 bird and around 100 mammal species. The park is one of the most popular tourist spots in Sabah and Malaysia in general.
Must do:
– Challenge yourself to the limit and scale up Mount Kinabalu.
– Take a refreshing break at the nearby Poring Hot Spring
– Go mountain biking or jungle trekking.
Book Accommodation in Kinabalu National Park, Malaysia
6. Gunung Mulu National Park, Sarawak
Gunung Mulu National Park near Miri, Sarawak, Malaysian Borneo, is listed as a UNESCO World Heritage Site in November 2000. It is home to an impressive collection of natural treasures, which includes razor-sharp limestone spikes called The Pinnacles and the world's largest cave chamber which can fit in 40 Boeing 747 aircrafts called the Sarawak Chamber. One of its caves, the Deer Cave, is also the world second largest cave passage.
Must do:
– Visit the four main caves: Deer, Lang, Clearwater and Wind.
– Walk along the 480 metres Mulu Canopy Skywalk.
– Go on one of the many exciting nature trails such as the Pinnacles Trail and the Medicine Plants Trail.
7. Taman Negara, Pahang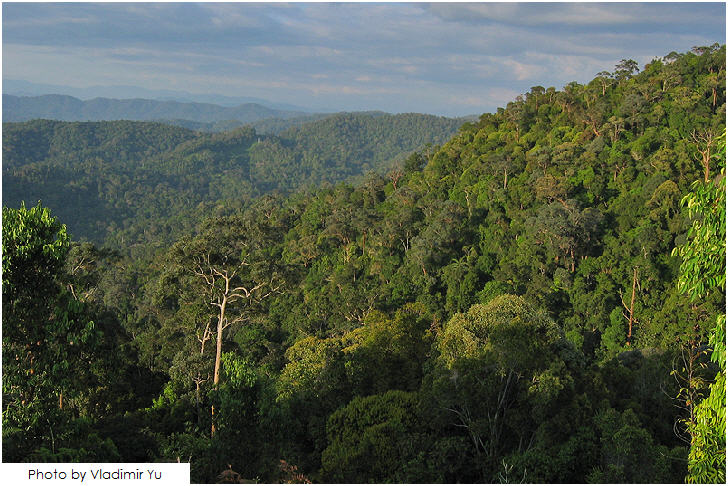 Under Creative Common
Taman Negara, Malaysia's premier national park, has a reputation as one of the world's oldest tropical rainforests and is estimated to be over 130 million years old. The park has been developed into a popular eco-tourism destination in Malaysia. There are several geological and biological attractions in the park. The most popular activities at Taman Negara are river cruises and jungle trekking. The canopy walk is also a must-see, offering a fantastic close up view of activity in the rainforest canopy. Home to a vast diversity of flora and fauna as well as some amazing natural landscapes, this 434,350 hectares virgin rainforest is also location of Gunung Tahan, the highest mountain in Peninsular Malaysia. All visitors to the park must get permits from the Department of Wildlife and National Parks.
Must do:
– Enjoy the view of the surroundings at 45 metres above ground while strolling along one of the world's longest canopy walkways.
– Explore ancient limestone caves.
– Try a variety of eco-adventure activities – rapid shooting, jungle trekking, canoeing and mountain climbing.
– Visit the Orang Asli (indigenous community) settlement.
– Spend a night in an observation hide to catch a glimpse of nocturnal wildlife.
– Go birdwatching and see if you can spot all 380 species.
8. Pasar Seni (Central Market), Kuala Lumpur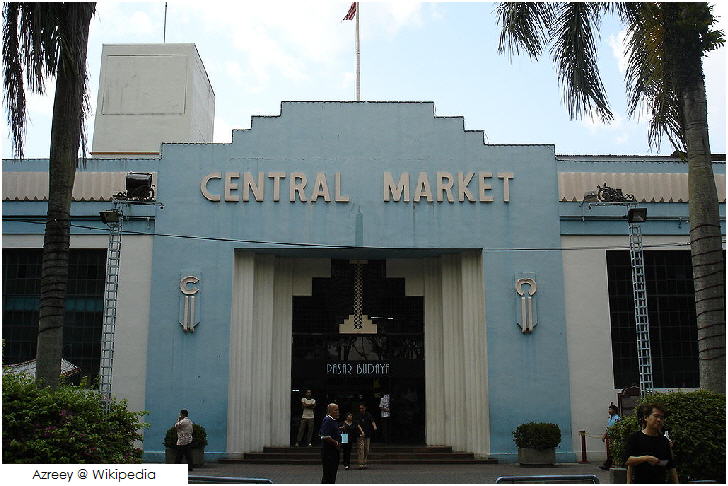 Photo by Azreey, under Creative Common
The Centre for Malaysian Culture, Heritage, Art & Craft. Strategically located in the heart of Kuala Lumpur and close to the public transportation hub, Central Market is linked to major destinations and hotels. It is also located near the KL Sentral interchange station which provides fast and convenient connections to most parts of Kuala Lumpur as well as the Kuala Lumpur International Airport. Just outside the building is a covered walkway named Kasturi Walk, offering visitors with more shopping choices. Events are consistently being held here, with many esteemed arts events taking place at its Annex Gallery.
Must do:
– Tantalise your tastebuds with the wide selection of local delicacies sold along the Kasturi Walk, while looking for the perfect mementos and souvenirs to take home.
– Get your portrait done by a professional artist in the form of painting or caricature.
– Look out for the many exciting events held here such as the Annual Lantern Parade and Chinese New Year celebrations.
Book Accommodation in Kuala Lumpur
9. Petaling Street (Chinatown), Kuala Lumpur
Petaling Street, KL's Chinatown, is a bustling heritage and shopping spot. The streets are lined with a myriad of shopping as well as a number of heritage buildings, clan houses and temples. The area has dozens of restaurants and food stalls, serving local favourites such as Hokkien Mee, Ikan Bakar (barbecued fish), Asam Laksa and Curry Noodles. In 2003, Petaling Street underwent a major RM11 millions face lift when two large Chinese arches to welcome visitors were placed at either end of the street. A green roof cover was constructed, covering the whole street, dubbed the "Green Dragon". The street is now totally pedestrianised and transformed into a pedestrian shopping mall. It is regarded as a heritage site.
Petaling Street is still the best place to shop for counterfeit branded products and for trying out its large selection of local Chinese cuisine. For buyers, it is often possible to haggle on the price of watches, clothing and all the counterfeit items. The Street is always crowded not only with tourists, but also with locals.
Must do:
– Shop for fantastic bargains as well as gifts and souvenirs.
– Sample local delights at the many local restaurants and food stalls lining the streets.
– Visit the surrounding heritage buildings.
– Soothe your tired feet by getting a foot massage.
Book Accommodation in Kuala Lumpur
10. Bukit Bintang and Kuala Lumpur City Centre, Kuala Lumpur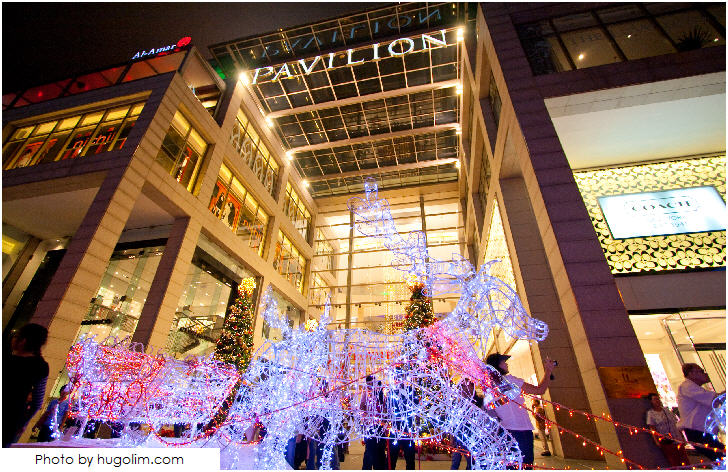 Photo by hugolim.com, Bukit Bintang and Kuala Lumpur City Centre
A shopping paradise in the heart of the city, Bukit Bintang and Kuala Lumpur City Centre (BBKLCC) is a destination with an abundance of fashion, food and entertainment options. Some of the best shopping malls in Malaysia – and quite possibly, Asia – can be found here. Lose yourself in the huge selection of local and international brands available across nine signature malls (Suria KLCC, Pavilion, Fahrenheit 88, Starhill Gallery, Sungei Wang Plaza, Plaza Low Yat, BB Plaza, Lot 10, Berjaya Times Square) within the area. The BBKLCC district is also well-connected via covered pedestrian walkway and an efficient network of public transportation.
Must do:
– Take a walk from Bukit Bintang to KLCC via the covered pedestrian walkway and soak in the vibrant atmosphere of this lively district.
– Visit the nine shopping malls within the area for a host of options and fantastic bargains.
Book Accommodation in Kuala Lumpur
11. Perhentian Island, Terengganu
Pulau Perhentian, meaning 'stopover island', is not to be missed. It lies approximately 21 Kilometres off the coast of Terengganu. The two main islands are Pulau Perhentian Besar and Pulau Perhentian Kecil. Covered by unspoilt jungle, windswept palms, powdery white beaches and surrounded by sapphire blue waters, Pulau Perhentian is a sanctuary for fishermen, migratory birds and of course, discerning holiday makers. Located just off the edge of the Pulau Redang Marine Park, Perhentian's coral-fringed waters have excellent underwater seascapes for snorkelling and scuba diving.
Of the two islands, Pulau Perhentian Kecil is more geared towards backpackers. Here, you'll find a wide range of budget options for both food and accommodation.
Pulau Perhentian Besar, on the other hand, is more developed and therefore offers better facilities. Nevertheless, there are chalets, dormitories and campsites on both islands.
Must do:
– Explore the island's underwater beauty at the many dive sites scattered around the island.
– Indulge in a range of watersports, such as windsurfing, sailing and angling.
– Go island-hopping.
– Try night-time diving.
– Go jungle-trekking.
Book Accommodation in Perhentian Island
12. Tioman Island, Pahang
Tioman Island (Malay language: Pulau Tioman) is a small island located about 56 kilometres off the east coast of Peninsular Malaysia in the state of Pahang and is hailed as one of the world's best beach getaways. The densely forested island is sparsely inhabited, and is surrounded by numerous coral reefs, making it a popular scuba diving spot. Snorkellers can delight in swimming alongside huge Napoleon Wrasse, Golden Striped Trevally, Bumphead Parrotfish and shoals of Fusiliers.
Must do:
– Go diving at one of the many dive sites dotted around the island.
– Go island-hopping to other islands within the Tioman Marine Park.
– Indulge in a host of watersports, such as boating, kayaking and windsurfing.
– Visit the charming local villages such as Salang, Tekek and Juara.
– Go jungle-trekking, mount-climbing or rock-climbing.
Book Accommodation in Tioman Island
13. LEGOLAND, Johor Bahru
First LEGOLAND in Asia, LEGOLAND Malaysia Resort brings together a LEGOLAND Park, Water Park and Hotel in one LEGO® themed location. It is a family holiday destination with more than 70 hands-on rides, slides, shows and attractions. Almost everything is hands-on, so you can push, pedal and program, or steer, squirt and splash your way through a truly interactive experience – and of course there's building too.
It has seven themed areas of attractions for all ages such as The Beginning, LEGO® Technic, LEGO Kingdoms, Imagination, LEGO City, Land of Adventure and MINILAND. It's an inspirational land where the children are the heroes. From LEGO experiment centres to rollercoasters, the park is a day-long voyage of discovery for all the family.
The centrepiece is MINILAND, where Asian landmarks have been recreated using more than 30 million LEGO bricks. It's an interactive world on a scale of 1:20, where people, trains and aeroplanes come to life at the touch of a button.
Save your trouble and get your tickets online from KLOOK now.
Must do:
– Visit all attractions within LEGOLAND – each offering different thrills and experience.
– Visit all retail outlets in LEGOLAND for one-of-a-kind gifts and souvenirs.
Book Accommodation in Johor Bahru, Malaysia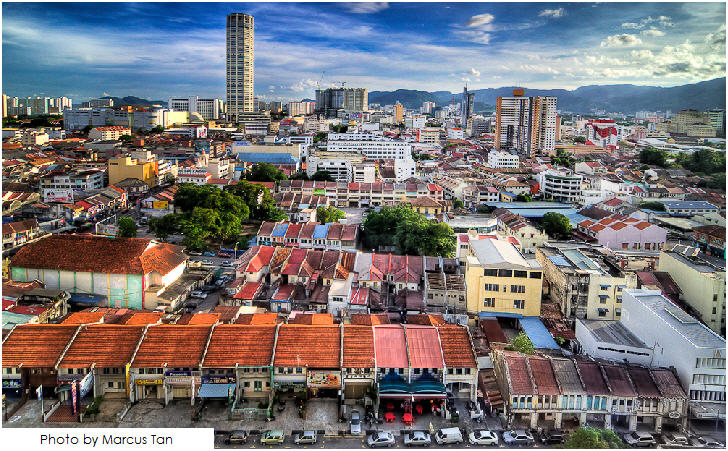 George Town by Marcus Tan, under Creative License 2.0
14. George Town, Penang
George Town is the capital of the state of Penang on the west coast of peninsular Malaysia. It was listed by UNESCO in 2008 as a World Heritage Site, together with fellow former Straits Settlement, Melaka. The lively capital of Penang has over 200 years of history and cultural heritage. Named after Britain's King George III, walking down the streets of Georgetown is truly like walking down the paths of history. Aside from the colonial buildings and historical architecture in this city, George Town is also renowned as a food capital.
Must do:
– Go on one of the city's heritage trails either on foot or via trishaw.
– Go on a gastronomic journey sampling the many street delights such as Char Koay Teow and prawn noodles.
Book accommodation in George Town
15. Melaka City, Melaka
Melaka City is the capital city of the Malaysian state of Melaka (Malacca). Occupied in turns by the Chinese, the Dutch and Malays from Sumatra, Malacca Town boasts a culturally rich mix of architecture. Deemed as the birthplace of the nation's historical and cultural heritage, with over 600 years of history to its name, it was conferred the title of UNESCO World Heritage City in 2008. Melaka City is now one of the country's most popular must visit destinations.
Must do:
– Go on a heritage trail around Melaka City, visiting all the historical attractions such as Porta de Santiago, Stadthuys and Baba Nyonya Heritage Museum
– Look for great antique finds at Jonker Street and Jalan Tun Tan Cheng Lock.
– Enjoy beautiful riverside view and see parts of historical Melaka on board the Melaka River Cruise.
Book Hotel in Melaka (Malacca)
16. Genting Highlands, Pahang
Genting Highlands
, also known as Resorts World Genting, is a one-stop hill resort with hotels, theme parks, casino, a number of entertainment, dining and retail options. Perched on top of Ulu Kali Mountain at some 1,800 metres above sea level, its cool climate and close proximity to Kuala Lumpur – approximately an hour's drive – makes it a popular must visit destination for a short family getaway. It is also Malaysia's only licensed on-land gambling spot.
Must do:
– Ride the Skyway Cable Car to the top of the hill.
– Play all day at the indoor theme parks.
– Visit the many attractions here such as Chin Swee Temple, Strawberry Farm and Mushroom Farm, Skytropolis Indoor Theme Park
– Shop till you drop at the First World Plaza.
– Enjoy the nightly live performances.
– Try your luck at the casino (strictly for non-Muslims)
Book Your Hotel in Genting Highlands
Tunku Abdul Rahman Marine Park is a state park located in Gaya Bay, 3 kilometers offshore from Kota Kinabalu. Named after Malaysia's first Prime Minister, Tunku Abdul Rahman, it was gazetted as Sabah's second national park in 1974. Popular among divers and eco-tourists, the park's relatively shallow waters is filled with an abundance of corals and aquatic species, making it perfect for snorkelling and diving for beginners. Comprising of 5 islands, Pulau Gaya, Manukan, Mamutik, Sapi, and Sulug, each island features a different collection of flora and fauna.
Must do:
– Go swimming, snorkelling or diving in the clear turqoise waters.
– Indulge in a variety of watersports, such as parasailing and jet skiing.
– Go island-hopping.
The oldest national park in Sarawak, the Bako National Park was established in 1957. Situated a mere 37 kilometres from Kuching, the park offers an excellent introduction to Sarawak's rainforest. Home to a thriving ecosystem, it is one of the most interesting parks in Malaysia with almost every plant species in Borneo available here as well as a panoramic rocky shoreline filled with beautiful natural formations, Its well-maintained network of nature trails allows visitors to explore its attractions with ease.
Must do:
– Follow one of the 16 trails available here and discover the park's unique ecosystem.
– Keep a lookout for the numerous wildlife roaming this area, especially the endemic Proboscis monkey.
– Go bird watching and spot some of the 150 bird species inhabiting this park
19. Sarawak Cultural Village, Sarawak
Tucked away at the foothills of legendary Mount Santubong, is Sarawak's fascinating cultural showcase, the award winning "Sarawak Cultural Village
" which is also the venue for the World Harvest Festival and the Rainforest World Music Festival. This living museum was set up to preserve and showcase Sarawak's cultural heritage. It displays the costumes, handicrafts, lifestyles and traditional dwellings of the state's major ethnic communities, with twice-daily cultural performance. Among the unique handicrafts that can be found here are Sarawak beads and Pua Kumbu (traditional Ibanese textile).
Must do:
– Visit the longhouses for a glimpse into the lives of each ethnic tribe.
– Join the interactive music workshop at the Rainforest Music House.
– Go on the Penan Nature Trail.
20. Redang Island (Pulau Redang), Terengganu
Located around 45 kilometres off the coast of Terengganu is Pulau Redang, the largest of a group of nine protected islands dotting the South China Sea off the Terengganu coast. The island offers crystal clear waters and 31 dive sites. Its clear waters contain hundreds of live coral species and thousands of marine species including manta rays, stingrays and sharks. When the sun rays penetrate the sea at midday, brilliant hues of coral, anemones and fish can be seen.
The waters around Pulau Redang also contain two historic shipwrecks: The H.M.S. Prince of Wales and H.M.S. Repulse, which sank here at the start of World War II. This paradise island is perfect for snorkelling, swimming, scuba- diving, jungle trekking, boating and canoeing. No fishing is allowed within a 3.2 kilometres radius of the island as Pulau Redang is gazetted as a marine park. The collection of corals and other aquatic life is also strictly prohibited.
Must do:
– Go swimming and snorkelling in its crystal clear waters.
– Explore all of the island's 31 dive sites.
– Take a relaxing stroll along the 800 metres long beach.
– Go jungle trekking.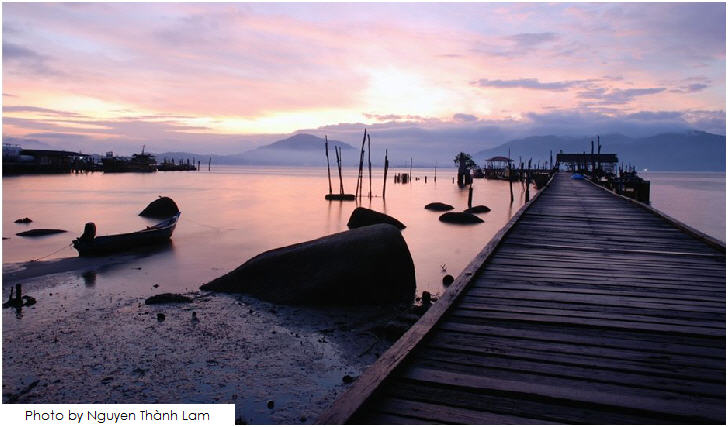 Photo by Nguyễn Thành Lam
21. Pangkor Island, Perak
Pangkor Island is a resort island off the coast of Perak, Malaysia. This island is characterised by miles of beautiful white sandy beaches like Pantai Puteri Dewi, Pantai Pasir Bogak and Teluk Nipah, and charming fishing villages. There are also attractions such as historical Dutch Fort, Batu Bersurat, and traditional boatyards. Just nearby is the exclusive Pangkor Laut Island.
Must do:
– Go swimming, snorkelling, fishing or kayaking.
– See how boats are built the traditional way at the boatyards.
– Try the fresh seafood dishes and snacks
22. Sipadan Island, Sabah
Rated as one of the world's top diving sites, Pulau Sipadan boasts a magical and truly breathtaking natural underwater beauty. Situated at the heart of the Indo-Pacific Basin, the centre of the world's richest marine habitat, the oceanic island is surrounded by several exciting dive spots with equally intriguing names, such as the Hanging Gardens, the Barracuda Point and the Turtle Cavern. One of its most thrilling features is the Drop Off, where knee-high water suddenly gives way to a 600 metres drop.
Must do:
– Explore the island's infamous underwater beauty at its 13 main dive sites.
– Indulge in a spot of birdwatching.
– Go island-hopping to nearby Mabul and Kapalai.
Book Sipadan Kapalai Dive Resort, Semporna, Malaysia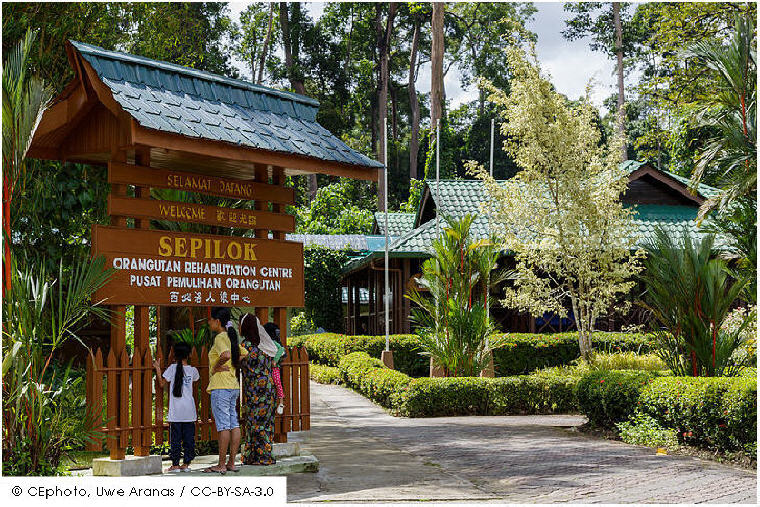 23. Kabili-Sepilok Nature Reserve, Sabah
Named after two rivers that flow through it, the Kabili-Sepilok Nature Reserve is home to an interesting and diverse array of wildlife and vegetation, consisting mainly of Dipterocarp and mangrove forests. There are several nature trails that lead through the forest, taking you from tropical highland forest to lowland mangrove swamps. The reserve is also home to the world-famous Sepilok Orang Utan Rehabilitation Centre, where you get to see this endearing species up close and learn more about them.
Must do:
– Go on one of the many nature trails here, such as the Water Hole Trail and Mangrove Forest Trail.
– Visit the Sepilok Orang Utan Rehabilitation Centre and learn more about the conservation and rehabilitation of orang utans.
– Visit the Rainforest Discovery Centre and learn more about the rainforest and its conservation.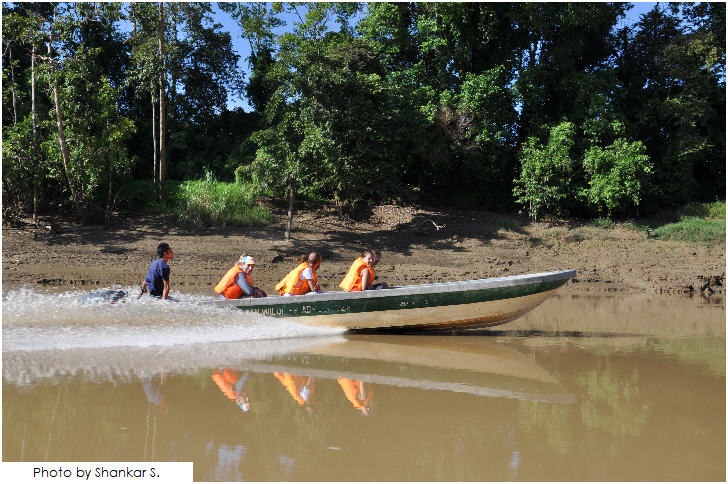 Photo by shankar s.
24. Kinabatangan River Safari, Sabah
Kinabatangan River is the longest river in Sabah. It is home to one of the world's most diverse ecosystems, especially around its lower basin. The Lower Kinabatangan forest-covered floodplain – one of the largest in the country – is a renowned wildlife sanctuary where exotic species such as Proboscis monkeys, Sumatran rhinos and Asian elephants can be found. A river safari is the best way to discover Kinabatangan's rich ecosystem and abundant wildlife.
Must do:
– Spot a variety of wildlife along the river as you cruise along it.
– Go on a night safari to see a variety of nocturnal wildlife.
– Try to spot all eight species of hornbills and ten species of primates inhabiting this area.
– Stay with the local folk at a homestay.
25. Langkawi, Kedah, Malaysia
Part of an archipelago of 99 tropical islands just off the coast of Kedah, Langkawi island is as much shrouded in age-old myths and legends as it is filled with natural beauty. It has been accorded Global Geopark status by UNESCO in 2007 for its diverse and astounding geological heritage, which dates back to more than 500 million years. Langkawi is also a popular duty-free destination.
For a more intimate time with nature, go trekking through the pristine rainforest that covers most of Langkawi, or go on a boat tour of the mangroves. There are also opportunities to go for a dive, or play a round of golf at some of the 5-star resorts.
Must do:
– Take a day trip to nearby Pulau Payar Marine Park, a popular diver's paradise.
– Indulge in a range of water sports such as yachting, sailing and jet skiing.
– Go jungle trekking or just laze on one of the many idyllic beaches.
– Shop till you drop in the duty-free heaven that is Kuah.
– Visit the many attractions on this island, such as Taman Lagenda, Kota Mahsuri and Langkawi Wildlife Park.
– Enjoy an exhilarating cable car ride all the way up to Gunung Mat Chincang.
Book Accommodation in Perhentian Island
Source: Wikepedia, Tourism Malaysia.
_____________________
Whatever the reason for your visit – a romantic getaway, a fun-filled family holiday, an all-out shopping spree or a quiet retreat at the heart of nature – Malaysia has it all. There are tons of things to see, do and discover in Malaysia. If you don't have the time to visit them all, this list can help you to plan a memorable trip in Malaysia. But before heading to any of these adventures, do make sure that you have the right equipment with you. Our friends at Globo Surf have many buying guides that can be very helpful.