Ko Samui (or Koh Samui) is one of Thailand's largest islands and the largest island in the Chumphon Archipelago which form the Ang Thong National Marine Park. It is an oasis of natural beauty with its white sandy beaches, dazzling coral, luscious lagoons, picturesque waterfalls, swaying coconut trees and crystal clear water. Administratively part of Surat Thani Province, Ko Samui welcomes everyone, from budget travellers, to the wealthiest holidaymakers.
The island hosts a great deal of splendid natural and man-made attractions. There's nothing to stop you having a blast on Ko Samui Island. This list of popular attractions in Ko Samui will help you to plan your first trip to one of the most popular destinations in Thailand.
Popular attractions in Ko Samui for your first visit
1. Chaweng Beach
Chaweng Beach on the east coast is the longest beach, most famous, and developed beach of Ko Samui. It has a reputation for a pristine white beach and an excellent nightlife infrastructure especially on the northern end of the beach. The underwater world is inviting. It boasts the largest number of dive shops on Ko Samui. Chaweng is usually divided into four sections: North Chaweng, Central Chaweng, South Chaweng and Chaweng Noi (Little Chaweng) which is around a headland and at the southern most tip of Chaweng.
Chaweng offers an incredibly broad range of accommodation and food thus attracting a diverse range of travellers, from your young "hippie" backpackers, international school and university students, sporting teams, singles, couples, honeymooners, wedding party's and families. There's something to suit everyone's taste and pocket.
Things to take note: The central part of Chaweng is far more crowded than the quieter south or north and attracts the younger party travellers. If music and activity is not your scene, this area is very easily avoided, and will mainly go unnoticed.
2. Lamai Beach
Lamai Beach is Samui's second most popular beach and offers good possibilities for both swimming and sunbathing. It is Koh Samui's widest beach strip, with golden coarse grained sand and is generally quieter than the busy Chaweng Beach. A combination of nightlife and local life makes the beach attractive to tourists. Lamai offers all types of accommodation ranging from budget guest houses and hostels to high end, luxury, five star hotels. There is a significant number of girlie bars in the southern part of town, while the northern part is virtually free of them.
3. Bo Phut Beach
Located on the northern coast along Bo Phut Bay, Bo Phut Beach is quieter and more secluded than the popular Chaweng and Lamai Beach. The calm, scenic bays are good for relaxation. Bo Phut Beach is a great choice if you're seeking privacy or romance, but not so good if you want night time entertainment. Bo Phut is little more than a fishing village with a 2 kilometre white sand beach. It is a popular starting point for diving tours and also where people can take a boat to some nearby islands. Although not in any way as developed as Chaweng, there are still plenty of restaurants, shops, and bars.
4. Big Buddha Temple (Wat Phra Yai)
Big Buddha temple sits majestically on Ko Faan, a small island off Ko Samui's north-eastern corner. Locally called Wat Phra Yai, its golden, 12-metre seated Buddha statue was built in 1972 and remains one of the most popular attractions in Ko Samui. The Big Buddha temple is connected by a short causeway to the main island. The Big Buddha can be seen at a distance of several kilometres and is often the first landmark people see when arriving to Samui by air.
The Big Buddha is 7.5 km from Chaweng and 3 km from Bophut. The temple is located on Thai highway 4171, which is a side route off of Highway 4169, the main route around the island. Since this is a sacred place, please be advised to dress politely. Be sure to wear shirts or scarves that cover the shoulders, trousers or long shorts, and no beachwear when visiting the Big Buddha temple.
5. Hin Ta and Hin Yai Rocks
Found on the rocky coastline between Lamai and Hua Thanon, Hin Ta (Grandfather rock) and Hin Yai (Grandmother rock) tell the story of an old couple who lived with their son in the Southern Province of Nakhon Si Thammarat. Since their son had come of age, they felt that it was time for him to get married. One day they decided to sail to the neighbouring province of Prachuap Khiri Khan to ask for the hand of Ta Monglai's daughter. During their sea journey, their boat was seized by storm. The old man and his wife were unable to swim ashore. They died at sea, turning into roacks as proof to the would be bride's parents of their true intentions. The rocks stand there to this day. And yes, they really look like the male and female genitalia respectively.
Opening Hours: Entry to the rocks is free of charge and available all day in daylight hours.
Location: Hin Ta and Hin Yai are located about two kilometres south of central Lamai Beach. It's about 11 kilometres away from Chaweng Beach and 17 kilometres from the airport.
6. Angthong National Marine Park
Angthong National Marine Park is a pristine archipelago of 42 tropical islands in the Gulf of Thailand. The park is a protected area of more than 100 square kilometres with limestone mountains about 10-400 meters above sea level, thick jungle, white-sand beaches, fertile mangroves, waterfalls and hidden coves and lakes. Exploration and snorkelling among the shallow coral gardens makes for a popular and fascinating day trip.
Most visitors to the park arrive on a join-in day trip or by boat charter from Ko Samui or Ko Pha Ngan. If you wish to stay overnight, there are simple bungalows which you can only reserved through National Marine Park (more information here). The best time to visit Angthong Marine National Park is March to October when the seas are calmer. The park is sometimes closed due to inclement weather in the months of November through January.
Getting there: Speed boat from Ko Samui and Ko Pha Ngan are faster compare to slow boat thus giving you more time to explore the park. The park recommends Safari boat as they are based in Ko Pha Ngan and they have a new office at Ko Samui (Bangrak, close to Seatran pier).
Please note: As from 1 February 2015, an entry fee to the Angthong National Marine Park is 300 THB for foreigner adult and 150 THB for foreigner child.
Website: Angthong National Marine Park
7. Na Muang waterfalls
Na Muang Waterfalls, a majestic set of two cascades, are the most beautiful and famous waterfalls in Ko Samui. The first waterfall, Na Muang 1, flows down into a pretty natural pool that provides a cool escape from the heat and Na Muang 2, which can only be reached on foot about 20-30 minutes from Na Muang 1. Total height of the Na Muang waterfalls is 80 meters. Set in lush jungle surrounds, visitors need a reasonable level of fitness to reach the falls on foot.
Between Na Muang 1 and 2 is the Na Muang Safari Park, where you can enjoy an elephant ride around the jungles of the island's interior. Na Muang Waterfalls is a popular attraction for families where they can spend an entire day swimming, hiking, exploring, picnicking – a cool and peaceful alternative to the beach.
Location: Off Route 4169 south of Ko Samui's inland mountains between Nathon and Hua Thanon.
Things to take note: Entry is free. Be aware that some local 'guides' try to ask for money for access or assistance but this is not necessary since the route is easy to travel on your own. Do bring along your swimming gear and wear quality sandals or walking shoes as the paths leading to the falls can be steep or slippery in places. The best time to go is in the wetter months of September through November when the waterfalls are in their full flowing glory.
Getting there: From Nathon, drive along the main road for about 11 kilometres until reaching the signed entrance road to Na Muang falls. The park entrance is about one kilometre up this road. Na Muang 1 is reached by a 100-metre walk from the parking lot, while Na Muang 2 is a further 100 metres away along a more challenging path.
8. Mummified Monk, Wat Khunaram
Ko Samui's most famous temple for its mummified monk on display. The monk Luang Phaw Daeng died in 1973 in a seated meditative position, and ever since his body has been on display in an upright glass case at the temple.
Opening Hours: The temple is open for visitors during daylight hours every day, and the best times to go are early morning or late afternoon when the temple is most active with merit-making and monk chanting activities.
Location: Wat Khunaram is between the Na Muang waterfalls and Hua Thanon, 13 kilometres south-east of Nathon Pier and about six kilometres west of Lamai Beach.
Things to take note: Entry is free. Donations are welcome for temple's upkeep. Please be reminded to dress appropriately in trousers or skirts that cover the knee and covering bare shoulders with a shirt, scarf or sarong.
9. Ladyboy Cabaret Shows
Ladyboy Cabaret show might not be everyone's cup of tea but with an open mind, you might just enjoy the show! At Chaweng Beach, you can enjoy a fun evening with this unique form of entertainment. A typical show involves lip-synched interpretations of popular songs, complete with elaborate costumes and make-up. Some of the performances are skilfully choreographed and the tone is light-hearted, sprinkled with glitter and glitz.
Most of the cabarets in Chaweng are located near the Centara Grand beach Resort, which makes for interesting competition before the show. The 'girls' hand out flyers and sometimes drag you in to their bar forcibly! Remember to just keep an open mind; you are on holiday anyway, just enjoy the show!
10. Secret Buddha Garden
Secret Buddha Garden, also known as Magic Garden or Heaven's Garden, is a hidden gem created by a retired durian farmer Nim Thongsuk. He began building it in 1976, at the age of 77, and continued to do so until his death at the age of 91. The garden features a number of animals, deities and humans in various poses, and even a pair of statues of the founder's parents. Sitting atop the Tar Nim Waterfall peak, the Secret Buddha Garden is one of the popular attractions in Ko Samui despite its remoteness and challenging final climb. The views from within gardens and on the road leading up to it are spectacular, with many stops to enjoy the island panorama along the way.
Location: On a hilltop off Route 4169 (ring road) at Baan Saket.
Fee: 80 baht per person.
Getting there: In Baan Saket, get on the air force road leading up to Ta Nim Waterfall. The road turns into a dirt track for the last 400 metres of the ascent. There are many signs along the way.
11. Samui Snake Farm
Surrounded by lush green jungle in the south-west corner of Ko Samui is the Samui Snake Farm, where visitors get a thrilling up-close experience with many of Thailand's most fearsome reptiles. Twice a day, visitors can watch and enjoy the only snake show on Ko Samui where a variety of snakes are used in the show, with king cobras and giant pythons being the star attractions. At the Snake Farm you will also meet the Scorpion Queen and the Centipedes King, and watch their courageous stunts with their creepy little friends. The Samui Snake Farm is great fun for the whole family and one of the popular attractions in Ko Samui to visit during your stay in Thailand.
Opening Hours: Open daily with showtimes at 11am and 2pm
Location: 88/2 Moo 4 Taling-ngam, along Route 4170, about 13 kilometres south of Nathon Pier
Things to take note: The Snake Farm's advice: 'You can look, but don't touch!'
Website: Samui Snake Farm
12. Wat Plai Laem
Wat Plai Laem is a Buddhist temple on the resort island of Ko Samui featuring a striking white 18-arm image of Guanyin, the Goddess of Mercy and Compassion. Like the nearby Wat Phra Yai, or Big Buddha Temple, it is a modern temple created in recent times offering visitors a view into Chinese-Thai beliefs as well as some elaborate Buddhist-themed art and architecture. Being a living and active temple, devotees come daily to pay homage to the Guanyin. Wat Plai Laem provides a great break from the beaches to immerse in a bit of Thai culture. The temple is surrounded by a lake teeming with fish, giving it a feel of tranquility. Visitors who make a donation to the temple are given a bag of food to feed the fish.
Opening Hours: Wat Plai Laem is open to visitors all day during daylight hours, and is particularly lively during Chinese festival events such as Chinese New Year.
Things to take note: Entry is free. Donations are welcome. Please be reminded to dress appropriately in trousers or skirts that cover the knee and covering bare shoulders with a shirt, scarf or sarong. Worshippers often don white clothing when visiting the temple.
Getting there: Take the main route 4169 up to the northeast region of Samui, then turn off on route 4171. It is very close to the Big Buddha temple, about 3 km directly north of Samui International Airport, 3km east of Bophut Beach and 7.5km away from Chaweng Beach.
Information for beach goers
If you want to avoid the crowd, you may want to visit between May and June as there are fewer tourists. Accommodation is much better value-for-money, the weather is at its best, and the seas are calmest. The tourist peak season is July and August.

The rainy season runs from September into November. November is normally the wettest and windiest month. Most often it's only a cool, late afternoon shower, but there are rainy days on Samui and it's also when the waves are their biggest.

The Christmas holidays are a very busy period and accommodation may be hard to find.
Search for cheap flight to Ko Samui with Skyscanner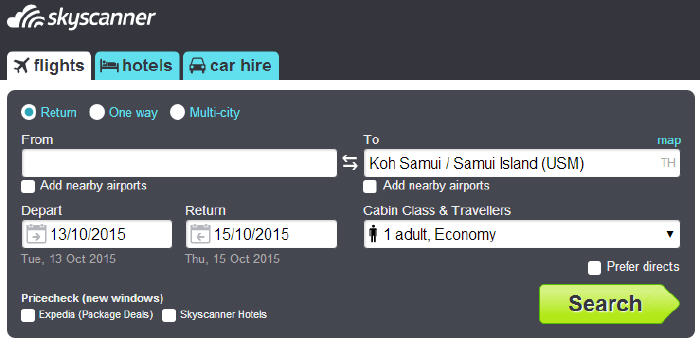 Recommended hotels in Ko Samui by review score
Didn't see any that suit your taste and pocket?