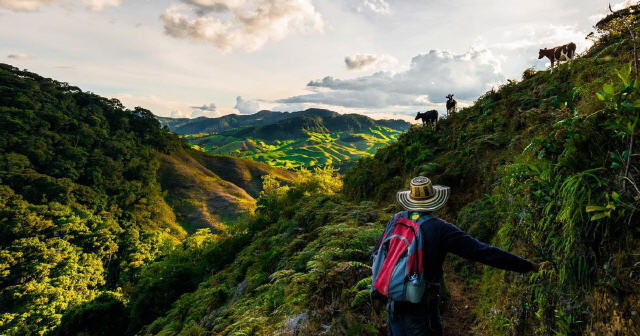 Photo credit: World Nomads
Go on a filmmaking assignment to Colombia!
An excellent opportunity for aspiring filmmakers to capture Colombia in this 10-day assignment. Plus be mentored by professional filmmaker and director Brian Rapsey.
This South American stunner's doors are now open, and World Nomads believes that it has more than a few stories to tell. In their 2015 Travel Film Scholarship, they're looking for one adventurous documentary filmmaker to capture the culture and the communities of Colombia's Pacific Coast.
Boasting more than its fair share of white-sand beaches, lush jungles and cloud forested mountain ranges, Colombia is a filmmaker's dream. However, it's beauty is matched by history, culture and people no less interesting or colourful.
This undiscovered paradise is just opening itself up to travellers and is chock full of some of the country's best wildlife and adventure experiences. This is your opportunity to document how the community lives and how they are working to promote tourism to the region.
The lucky scholarship recipient will be awarded with a 10-day all-expenses-paid trip in Colombia, with travel insurance for the duration of the trip from World Nomads. The scholarship will also include round-trip airfare from your country of residence to Bogotá, Colombia. There you will spend 7 days filming under the mentorship of filmmaker and director Brian Rapsey. Then you will spend the final 3 days in a post-production workshop in Bogotá where you will be producing a short 5-7 minute travel documentary, which World Nomads will share with the world!
And you are also encourage to post photos from your assignment to Instagram or Twitter on a daily basis where World Nomads and the world can follow your adventures.
Who can apply?
Any non-professionals can apply – this is open to film students, or anyone who is trying to build a career in documentary style filmmaking.
The scholarship is open to all nationalities; however, you must have an exceptionally high degree of proficiency in written English.
Minimum age 18 (by application deadline, September 7th).
You must have a current, valid passport and you must be available as per the dates set out. Please note these dates are not changeable in any way.
You may be a resident of any country (subject to obtaining a Colombian visa).
You should be a keen amateur with a lust for adventure and burning desire to be a filmmaker.
You must be fit and healthy as moderate levels of physical work are involved as well as a number of late nights!
For more information on World Nomads 2015 Travel Film Scholarship, do head over to World Nomads now!
Note:
One entry per person.
Information on all scholarships can be found here.