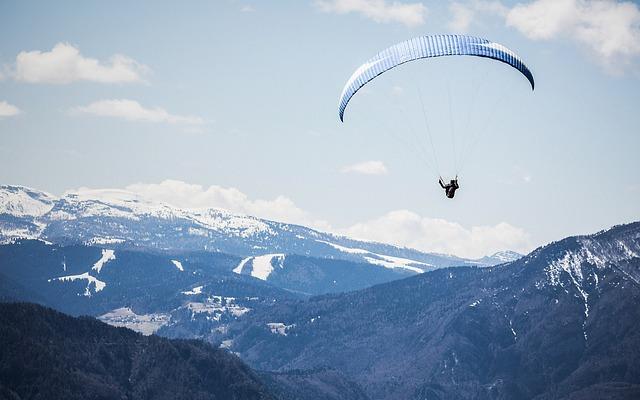 Have you ever dreamed of taking to the sky? I did. I have literally dreamed flying like superman in my sleep. The closest experience most people have to flying would be on a plane; the closest experience I had, was bungee jumping. Bungee jumping was an exhilarating experience but it fell short of a free-flight experience I wanted. So after bungee jumping, the next thing which I really want to try is tandem skydiving.
Perhaps, there is another option which I can consider, that will give me the next closest experience to flying in the sky and with a pair of 'wings', is paragliding. It may just be the easiest way to fly and perhaps the lightest. It is a non-motorised form of flight that uses a parachute and air flow to get around.
Paragliding has not only caught on with more and more thrill seekers but it has also become more accessible. According to this MyPaper report:
The most popular form of paragliding is tandem flight, where thrill seekers merely enjoy the ride while a "pilot" steers the glider. For this kind of ride, no prior knowledge of the sport is required, though a basic understanding of physics is beneficial for working with the pilot to steer the glider comfortably.
Although there are no flyable sites in Singapore currently, you are nearer to enjoying this exhilarating flying experience than you think – just across the causeway, in the historic town of Jugra, off Banting in Selangor. This is where paragliding enthusiasts can take flight off the Paragliding Flightpark.
Paragliding, like most adventure sports, is as safe or dangerous as you want. Modern paragliding wings are very stable and risk can be minimised by becoming educated and making conservative decisions about when and where fly. But paragliding is still an outdoor sport and Mother Nature is unpredictable. You must be willing to learn gradually and to think with your head not with your ego. If you don't, then you can get injured or killed; if you do, then you can paraglide well into our golden years. For safety reasons, a tandem flier cannot weigh more than 135kg.
Paragliding Flightpark is started by husband and wife team Ikhwan Azillah and Orkid Jamilah, who have been indulging in the sport for the last 15 years. They have also established the Malaysia Paragliding and Hang Gliding Association. In a recent interview, Ms. Orkid said that women made up most of their local clientele. "I don't know where the men have gone," admitted Mr Ikhwan sheepishly.
Thrill seekers also include expatriates and tourists from countries near and far, including France, Japan, Australia, New Zealand, Thailand and Vietnam.
Those with a greater sense of adventure may opt to fly solo. The fundamental introductory course is a two-day affair. Depending on the level of interest, the training spans four tiers, the lowest for those hoping to fly on their own while the highest for those intending to become licensed instructors.
According to Mr. Ikhwan, the gear they use comes with a five-year guarantee and small repairs are outsourced to former commandos who were (parachute) riggers. No purchase of equipment is required for novice fliers, but serious paragliders can look into getting their own gear.
The average flight lasts 10 minutes, costing RM200 (S$72). Students pay RM150. For more information on paragliding at the Paragliding Flightpark in Selangor, you can visit here.