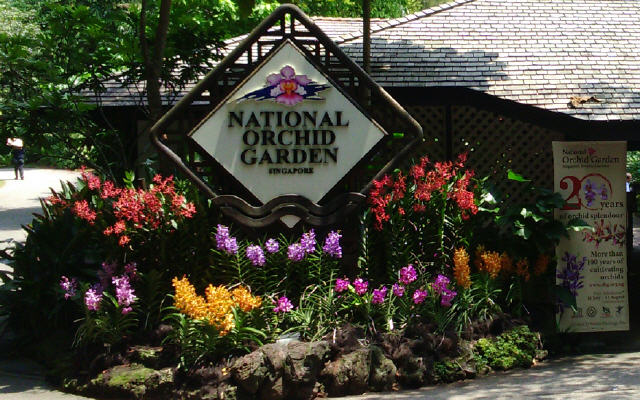 The National Orchid Garden Singapore, which boasts the world's largest orchid display, is nested within the compound of the Singapore Botanic Gardens. The Gardens' orchid breeding programme, which began in 1928 has since produced over 1,000 species and 2,000 hybrids, with about 600 species and hybrids on display; the splendour of these gorgeous blooms is absolutely a sight to behold and a great way to spend 2-3 hours. If you love flowers then all I can say is that this place will absolutely blow your mind away.
Just a gentle reminder: Make sure that either your camera or your phone is fully charged and do bring along drinking water, hats, and shades. On my last trip to the National Orchid Garden Singapore on August 5, I have to give Yuen_peng McNeice Bromeliad Collection a miss as I was running out of time and my phone was completely flat after Tan Hoon Siang Mist House. Thus, I wasn't able to take any photos after that.
What to look out for in the National Orchid Garden Singapore
Burkill Hall: Built in 1866, this colonial house is an excellent example of tropical architecture. Once home of the Gardens' directors, the hall is now used to host VIP events and other functions.
VIP Orchid Garden: Here, you'll see orchid hybrids named after visiting state dignitaries and VIPs. Try to catch a glimpse of orchids named after Nelson Mandela, Margaret Thatcher, Princess Masako and many more.
National Flower of Singapore Vanda Miss Joaquim: Chosen to be the National Flower of Singapore in 1981, this exquisite orchid was discovered by Miss Agnes Joaquim in her garden in 1893.


Celebrity Orchid Garden: Celebrities are invited to visit the National Orchid Garden where new hybrids are named to commemorate their visit. This is where you'll see orchids named after celebrities like Jackie Chan and world renowned Tenor, Andrea Bocelli.
Tan Hoon Siang Mist House: Set against a backdrop of tropical foliage and cultural decor, a host of rare orchid cultivars from the Gardens' collection is displayed here.
Yuen_peng McNeice Bromeliad Collection: Over 300 species and 500 hybrids of these highly exotic and most unusual plants from Central and South America are housed here.


Cool House: The Cool House encloses a montane tropical forest. Trees and rocks are draped with a profusion of spectacular orchids and fascinating carnivorous plants. The cool air, drifting mist and rushing torrent provide a highly realistic representation of high elevation sites in the tropics and making it an unforgettable experience.
Visitor Information:
Opening hours: 8.30am – 7.00pm daily (last ticket sales and entry at 6.00pm)
Admission Fee:
$5.00 for adults
$1.00 for students
$1.00 for senior citizens (60 years and above)
Free for children below 12 years
Getting to National Orchid Garden Singapore:
By Train:
Alight at the Botanic Gardens Station which is about a 20-minute walk to the National Orchid Garden.
By Bus:
Tanglin Gate – Take bus number 7, 75, 77, 105, 106, 123, 174 and alight along Napier Road. The National Orchid Garden is about a 15-minute walk from the Garden's Tanglin Gate.
Bukit Timah Gate – Take bus number 48, 66, 67, 151, 153, 154, 156, 170, 171, 186 and alight along Bukit Timah Road. The National Orchid Garden is about 20-minute walk from the Garden's Bukit Timah Gate.
By Car/Taxi:
Parking is available at Botany Centre with a 15 minute walk (Tanglin Gate), Visitor Centre with a 12 minute walk (Nassim Gate), Cluny Park Road with a 20 minute walk(Cluny Park Gate) and public parking along Tyersall Avenue (6 minute walk).
The nearest taxi drop-off point is at the Coach Drop-off point at Ginger Garden (next to the entrance of National Orchid Garden).
Source: National Parks and Singapore Botanic Gardens. For a map of the National Orchid Garden, please click here.
______________________________________
The National Orchid Garden Singapore is truly a gem in the Singapore Botanic Gardens and definitely one of my favourite attractions in Singapore. I personally feel that it is an inexpensive way to spend a few hours to be completely mesmerised by all the species and hybrids of orchid on display. And if you love flower, all the more you should not miss it.
Top Rated Hotels, Hostels, Apartments, Suites, Resorts etc in Singapore
Based on review score of 8.5 and above, with at least 40 verified reviews by real guests who completed their stays.