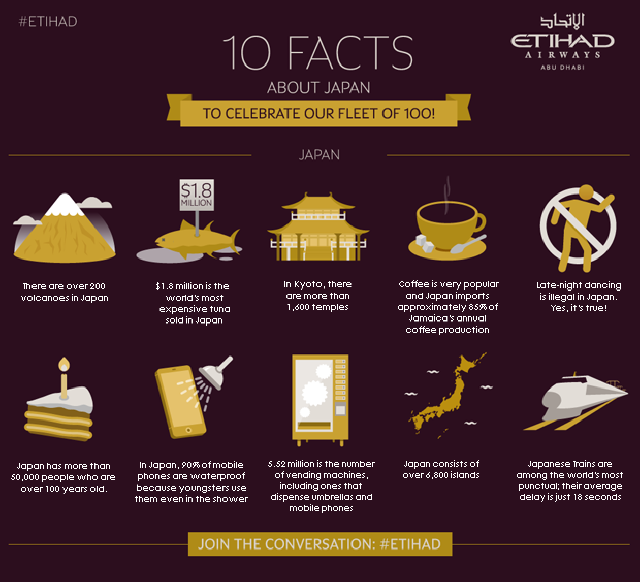 Infographic: 10 facts about Japan
Japan is a world apart – filled with captivating scenery, unique architectural style, and art that reveals centuries-old culture through calligraphy and painting unlike that of any other country. The Japanese spirit is strong, warm and incredibly welcoming, making Japan a favourite destination for many repeat visitors. Here are 10 facts about Japan compiled by Etihad; the added information are from verification from the internet.
There are over 200 volcanoes in Japan. According to Nikkei Asian Review, "There are about 450 volcanoes across the nation." Of these volcanoes, 110 are still active and they are located throughout the nation. Mount Fuji, 3776 meters, is Japan's highest mountain and an active volcano, which most recently erupted in 1708. It stands on the border between Yamanashi and Shizuoka Prefectures and can be seen from Tokyo and Yokohama on clear days.



Photo credit: Reginald Pentinio


$1.8 million is the world's most expensive tuna sold in Japan. A 222-kilogram bluefin tuna was sold at Tokyo's Tsukiji market for an all-time high of 155.4 million yen, or 1.8 million dollars at the annual new year auction, Japan's national broadcaster NHK reported. (Source)
In Kyoto, there are more than 1,600 temples. There are literally thousands of Buddhist temples and Shinto shrines in Kyoto. When you visit, please behave calmly and respectfully. Please watch for signs that indicate some places where photography is not allowed. In 1994, sixteen temples and shrines were selected by UNESCO as World Heritage Sites. Below are some of the chosen temples and shrines as UNESCO World Heritage Sites.


Coffee is very popular and Japan imports approximately 85% of Jamaica's annual coffee production. Jamaican Blue Mountain Coffee, is considered among the best in the world because at those heights in the Blue Mountains, the cooler climate causes the berries to take longer to ripen and the beans develop more of the substances which on roasting give coffee its flavor. Over 80 per cent of Jamaica's Blue Mountain Coffee is exported to Japan. (Source)
Late-night dancing is illegal in Japan. Yes, it's true! The ban was put into place after World War Two, and forbade dancing in venues without a special 'dance licence.' Even licenced premises have to stop all dancing by midnight. Fortunately, Japan's night owls will soon be able to party without fear. A campaign led by world-famous Japanese musician Ryuichi Sakamoto, calling for the abolition of the ban, gained 150,000 signatures and the ban was lifted. However, the new law will only come into force next year. Until then, late-night dancing will remain illegal. (Source)
According to the Health, Labor and Welfare Ministry, the number of centenarians as of September had increased by 4,124 from last year to a record 65,692, extending the rise in the age group's population to 46 consecutive years. The oldest woman in the country is 116-year-old Nabi Tajima of Kikai, Kagoshima Prefecture, and the oldest man is 112-year-old Masamitsu Yoshida of Ota Ward in Tokyo. (Updated 15 September 2016: Source)
In Japan, 90% of mobile phones are waterproof because youngsters use them even in the shower. Japanese women are so fond of their phones, they even use them in the shower, say manufacturers. This makes waterproofing a must – also good against rainstorms and accidents while texting on the toilet. "In Japan, you can't sell a phone if it's not waterproof. About 90 to 95 percent of all phones sold now are already waterproof," Panasonic executive Taro Itakura told AFP at the Mobile World Congress. (Source)
5.52 million is the number of vending machines, including the ones that dispense umbrellas and mobile phones. From Wikipedia, there are 5,582,200 vending machines in Japan, or one machine for every 23 people. According to the Japan Vending Machine Manufactures Association website, the latest number as of 2014 year end was 5,035,600.


Japan consists of over 6,800 islands. According to Wikipedia, Japan is a stratovolcanic archipelago of 6,852 islands. The four largest are Honshu, Hokkaido, Kyushu, and Shikoku, which make up about ninety-seven percent of Japan's land area.
Japanese trains are among the world's most punctual; their average delay is just 18 seconds. If you are wondering why Japanese trains are among the world's most punctual, here's Why.


Have you ever come across these 10 facts about Japan before? I personally haven't come across any of these facts before today. Thanks to Etihad for sharing this interesting infographic. According to Etihad, to enjoy winter sports in Northern Japan, such as skiing and snowboarding, you can plan your visit during the months of January and February when there is lots of snowfall. And to see the country when it is in full bloom and to enjoy milder weather, April is the best time to visit.
Etihad suggested Top 5 Things To Do in Japan
Do you know any other interesting fact about Japan? I would love to hear about them.