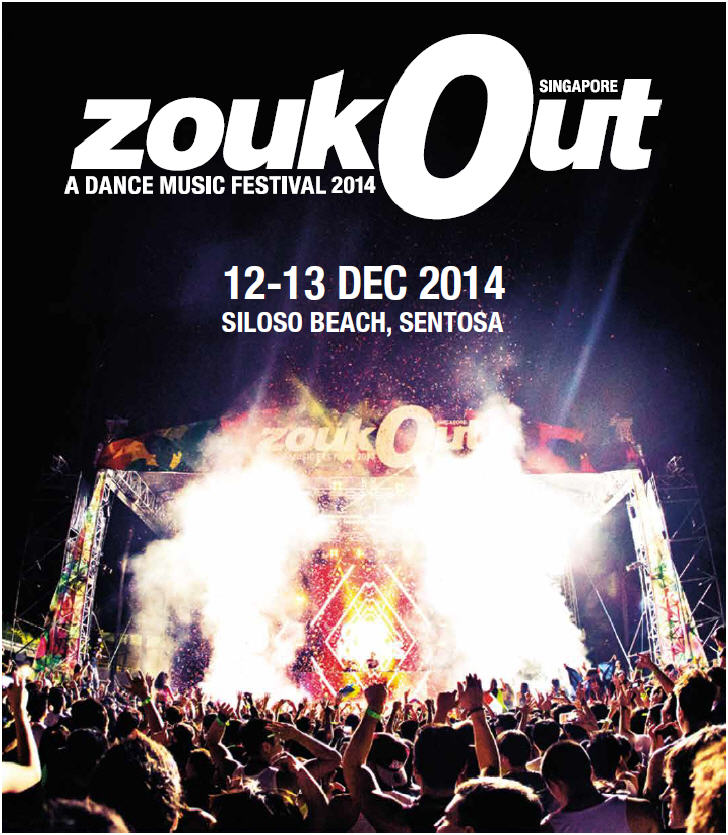 ZoukOut 2014 First Light
First light is defined as: "The time when light appears in the morning; dawn."

As ZoukOut celebrates its 14 years of dance, music, and brilliance, we also take a moment to celebrate the journey of this outdoor festival experience, embracing its past, present and future.

Being Asia's only sunrise beach festival, ZoukOut has given many from across the globe a precious chance to experience the beauty of gathering together as one world and one tribe, to experience two days of the best electronic dance music that can be offered. With top tier international artists gracing the decks, and a diversity of sounds from Electro to Trance to Techno to House being laid down, the outing also gives partygoers a chance to experience that breathtaking first light in the morning, as the music continues through to sunrise on Day 2 of the festival.

Join us as we celebrate this unique and special moment on Sentosa beach once more. Whether this is your first ZoukOut or your 14th, you will make lasting friendships, magical memories, and fall in love at first light with a festival that has spanned over a decade and touched the hearts and lives of hundreds of thousands.

So head on down to the 14th ZoukOut dance music extravaganza, with over 20 international and local artists over two stages and 40,000 other like-minded souls side by side – from dusk till dawn, till the very first light and beyond …
ZoukOut 2014 Full line Up
Day 1





ABOVE & BEYOND, UK
The three-piece legend of Above & Beyond needs little introduction. Having worked the Trance circuit for over ten years now, the London trio is no less than a phenomenon that has brought their craft all the way from Beirut to Brixton. Made up of Jono Grant, Tony McGuinness and Paavo Siljamaki, Above & Beyond is the only dance act in history to have won the Essential Mix of the Year twice and have remixed for world-class acts like Radiohead and Madonna. Through their renowned Anjunabeats label, they have consistently pushed quality Trance sounds to the world, nurturing artistes like Mat Zo, Andrew Rayel and Arty, establishing themselves as an electronic powerhouse whose impact upon our sonicscape has stood the test of time.





DANNIC, NED
Dannic, the highly prodigious DJ and producer from the Netherlands has already achieved a great deal since exploding onto the scene. Having now debuted for the first time at #74 in 2013's Top 100 DJ Mag poll, he is starting to harness the recognition he deserves. Dannic drew the attention of the spotlight early in his career thanks to a series of mash-ups. Since then, he's gone on to demonstrate a natural understanding of audio arrangement and structure, alongside possessing an impressive prowess as a peak-time performer whose technical ability leaves club and festival audiences wowed each and every week.





LOCO DICE, GER
Via his DJ sets or his productions on labels like M_nus, Cadenza, Ovum, Four Twenty and Cocoon, Loco Dice merges perspectives in his delicate sense for sounds and reflective atmospheres, underpinned with solid, physical grooves inspired by the Hip Hop that was his early sonic stomping ground in the mid- to late '90s. There's something there for the dreamers, as well as for the 9-to-5ers who just want to lose everything in a moment of abandon on the dancefloor.




MAGDA, US
Magda is an artist who can never be pinned down, no matter the timeframe or time signature. Any one of the Detroit-raised artiste's DJ sets or productions breeds a rare feel of mystique and discovery. Dramatic sounds and eccentric basslines carry her multilayered sound, which veers everywhere from funked-out space Disco to the intricately-programmed, metallic feel of Detroit to stripped down Techno, all the way to Italian horror film soundtracks. The only thing that remains consistent is the element of surprise.




NICKY ROMERO, NED
Strike up a conversation about the current state of EDM and it won't be long before Nicky Romero gets an emphatic mention. The breakthrough star with the bulletproof work ethic is credited as a driving force behind the fantastic health the scene currently enjoys. In every aspect of his life – as DJ, producer and label head – he is a tireless advocate for his art. Couple this with his distinctive signature sound and compelling output, and it is no surprise that he exploded into the DJ Mag Top 100 chart at number 17 in 2012, the highest new entry that year, and rose up to number 7 in 2013.





RICHIE HAWTIN, CAN
Artist, DJ, conceptualist and ambassador, more than anyone else in modern electronic music, Richie Hawtin has relentlessly proved himself to be a true innovator. The one-man mogul behind acclaimed Techno imprints, Plus 8 & Minus, sends signals out all over the world from his HQ in an old fire station in Windsor, Ontario – just across the border from Detroit Techno City. The signals are constantly evolving, his Plastikman persona gave Techno a unique face with a series of four ruthlessly minimal albums of skeletal beauty, while breathtaking festival live sets at Glastonbury and Tribal Gathering helped invent stadium Techno. As a pioneering DJ and party promoter, Richie Hawtin is now constantly touring all over the world, keeping fans updated on his worldwide DJ travels via his website diaries, pushing himself to his creative boundaries and taking Techno with him. Not just to the middle of the dancefloor, but also above it.





STEVE AOKI, US
DJ, producer, record label owner and cultural phenomenon, Steve Aoki is as Steve Aoki does and is one of the most talked about names in today's electronic dance music scene. With his bigger-than-life persona, Steve Aoki has brought his cake-smashing and crowd surfing antics to the biggest festival stages all over the world, picking up a massive legion of fans along the way. Stage diving and crowd surfing aside, the American electro house producer is also the head honcho at Dim Mak Records, which has released music by the likes of The Bloody Beetroots, Klaxons, Bloc Party, Dada Life, The Kills and more and has himself collaborated with his musical counterparts like LMFAO, Kid Cudi, Afrojack and Tiësto.





W&W, NED
Fusing styles and mixing influences W&W combine the uplifting and melodic elements of trance with the raw intensity of electro and progressiveness of house to create a sound uniquely their own. Infectious, rebellious and highly energetic, their list of productions is championed by the likes of Hardwell, Armin van Buuren, Tiësto, David Guetta and more for its breadth, diversity and massive appeal to multiple audiences. From their earlier to the acid-rubbed 'AK-47', synth-driven 'Moscow' and floor pounding 'Shotgun', to later projects like 'Invasion', it's clear each of the tunes leaving the W&W studios is a sure-shot of dance floor thrill.

Day 2





DAMIAN LAZARUS, UK
Driven by an almost childlike curiosity, a vivid imagination and wicked sense of humor, Damian Lazarus has used his role as a DJ, label owner and now musician to nurture and share the most exciting and experimental music on the planet. Drawn to the darkness, but buoyed by the light, ever ready to embrace new ideas and different perspectives on music and the dance floor, Lazarus is always ahead of the curve, with a wry smile on his face and a neat trick up his sleeve. Since the moment he spun his first record, Damian's mission has been a clear and urgent one: to blow away the mediocre, the over-inflated, the obsolete; to seek out and celebrate the energetic, the important, the new.





DUBFIRE, US
Grammy Award-winning recording artist Dubfire is renowned for his innovative DJ sets, revolutionary music, and much-lauded SCI+TEC label. Widely recognized as one of electronic music's most versatile artists, Dubfire initially brought a pioneering sound to the masses during his days as one-half of the distinguished DJ & production duo Deep Dish, which led to a catalog of timeless dance classics and numerous international awards to their credit. After more than 23 years behind the decks and in the studio, with deep roots in the genesis of electronic music, Dubfire continues to evolve in new ways that have helped shape the industry.





MANO LE TOUGH, UK, *SG DEBUT*
Over the past few years, Mano Le Tough has become one of the shooting stars of the international dance music scene. His impact has been so great that Kristian Beyer of Âme claimed recently in an interview that: "Thanks to Mano Le Tough, I have no fears for the future of House". All of his experience as a musician and artist culminate now in Mano Le Tough's first long player, Changing Days on Permanent Vacation. Fully aware that the album format is still the most important statement of a musician, Mano succeeds in this field with flying colors by not falling into the obvious traps of making a "dance" album with 11 songs that all seem to sound the same. Instead, he creates his own distinct sound and musical vision with bittersweet melodies and atmospheric moods, creating for himself an appeal that isn't limited by genres.




MARTIN GARRIX, NED, *SG DEBUT*
By day, Martin Garrix is like any other 18-year-old, but when the sun goes down, he is behind the decks in front of packed hotspots and festivals across the globe such as Ultra Music Festival and Coachella. 2013 saw him uncage 'Animals', his breakout international single for Spinnin' Records. Fusing a tribal bounce to a seductively dark refrain, the track charges ahead like a dance floor stampede. Upon release, it climbed to #1 on the Beatport Top Songs Chart and impressively held the spot for four weeks. As a result, Garrix became the youngest artist ever to seize the top spot. After selling out his debut world club tour, the youngster is now traveling around the globe, proving himself to be an unstoppable force all over the world.




MAYA JANE COLES, UK
Life has been changing quite dramatically for 25 year old British-Japanese, DJ-producer Maya Jane Coles and having recently released her biggest body of work to date, her debut album, Comfort, things look set to keep on changing. In the last 24 months alone, Maya has already graced the cover of over 14 magazines in eight different countries including Mixmag (UK), Village Voice (USA), Trax (France), Groove (Germany) and Vicious (Spain). Critical and music fan support alike have also helped Maya to pick up multiple awards, including Beatport's Staff Pick: Artist of the year 2011 and the likes of Best Producer, Best DJ, Best Compilation and Best Underground Track from a variety of media from Mixmag and DJ Mag to FACT and SPIN.





NINA KRAVIZ, RUS
With a long time passion for House and Techno that dates back to her days as a journalist, Kraviz is first and foremost a DJ, and one engrained with the roots of her first love – Chicago House and Detroit Techno. Her hunger to dig deep into the archives of House and Techno balances all of her sets perfectly between now and then, introducing her fans to where this scene has come from and where it might be heading. This unique sound and uncompromising attitude has led to Kraviz becoming one of the most in demand artists in the world, playing at major festivals like the Amsterdam Dance Event, Coachella, Sonar, Decibel, Awakenings and DEMF, as well as landing a much-coveted residency at Richie Hawtin's ENTER. project at Space in Ibiza plus regular appearances at clubs including Berghain, Fabric and The Warehouse Project.





SHOWTEK, NED
Smashing their way into the dance elite in a few short years, they behold a career that exists in most producers' wet dream. Starting out in a quiet town of the Netherlands they were fuelled by bringing the biggest and best music to the world and in 2012, this was emphatically realized. Named as the #17 musical exports of their home country they are leading the Dutch movement dominating the airwaves around the globe. Tipped by musical gospels from Dancing Astronaut to Billboard and loved by fans of all spheres, all eyes are on Showtek to see what masterpieces this year and beyond will bring. Picking up awards and smashing records as they blast through these few years, the future is set for the stratosphere.





SKRILLEX, US
Sonny Moore aka Skrillex is the 24-year-old electronic imagineer whose story of community, creativity and commitment has taken him from warehouse parties in Los Angeles to a defining role in the modern zeitgeist. Moving forward from his early days in the band scene, Skrillex has since established himself as a right juggernaut within the realm of electronic dance music. Smashing dance floors and charts alike, his slew of EPs and 2014 studio album, Recess, has made him a true crossover success story, picking up a total of six Grammy's for Best Dance Recording, Best Dance/Electronica Album and Best Remixed Recording in 2012 and 2013 alone.




STEVE ANGELLO, SWE
Where some say that running a business is like riding a rollercoaster, the industrious footsteps of Steve Angello have equated to quite the ride. Producing for Interscope in LA and establishing Size Records in 2003, his hunger for universal success has seen him scale the charts and clubs alike with a refined array of musical gems. Amid his industrious actions, his part in the Swedish House Mafia has proven one of the more game changing chapters of his musical legacy. Pitting the dexterious sound of his like-minded peers into wave-upon-wave of universal club fuel, from 'One' to 'Greyhound' their reign has far overstretched the aptly assumptive title of chart-breakthrough 'Miami2Ibiza'. The commercial wave was undefeatable, but Steve and his likeminded peers have successfully injected some passion into the epitome of global Dance music infamy.

"Zouk has been a leading part of the dance scene in Asia for many years and is known for their amazing events. I have waited for this day and it's finally set! I will see you all at ZoukOut!"

______________________________________

So join 40,000 other like-minded souls side by side – from dusk till dawn, till the very first light and beyond in this ZoukOut dance music extravaganza with over 20 international and local artists on 12-13 December 2014 at the Siloso Beach, Sentosa!

Go here for updates on ZoukOut and ticketing details now!



Featured hotels in Sentosa

Special hotel deals in Singapore



Founder of Symphony of Love. He finds meaning in inspiring love, peace and happiness.