Very often you heard people say, "Once bitten, twice shy." Something that one says when one has had an unpleasant experience and one is much more careful to avoid similar experiences in the future. Obviously I haven't been much more careful with ZUJI since my
disappointing first experience
with them. My sister and I decided yesterday, 13 October, to give ZUJI another chance as advised by one of the supervisors which I have spoken to. We tried to book the air ticket when the discounted fare was available again.
I checked several times yesterday, once in the morning at around 0948 hours, then at around 1248 hours and the final time around 1400 hours in the afternoon before we made the booking. The discounted fare of SGD750 was on except the timing at 1248 hours. We started to make the book at around 1400 hours and we took about 10 minutes or less to book and pay for the ticket. A confirmed booking itinerary from ZUJI was received at 1420 hours. Perhaps we were slower to respond the first time we tried to book the ticket on 9 October, but this time round we did it in double quick timing.
Long story short, this morning I received an email from ZUJI at 0642 hours and the exact same thing happened as in my
disappointing first experience
with them. A similar email template was used:
"
Due to a discrepancy in the system of airlines at the time of booking, we are unable to confirm these flights for you for the same price, as the booking class you tried to book had in fact sold out by the time you finished your transaction online. This is the reason your flights were not confirmed immediately, and on behalf of the airline I wish to offer you my sincere apologies.

The new price for your original flight request would be $1012.39 which means we would require a further $262.60 in order to confirm your original flights.

MI 988 E 17FEB SINGAPORE TO WUHAN 1235 1740
MI 985 E 11MAR WUHAN TO SINGAPORE 1500 2005

I appreciate this must be disappointing but as we do rely on third party information I am afraid this was beyond our control.
"
Do you really appreciate the disappointment ZUJI, for the second time? And again I must understand that it is beyond your control because you rely on third party information.
To be fair to ZUJI, the customer service executive did offer a better option this round with an alternative flight operated by Hong Kong Dragon Airlines for the lower price of SGD490.18 and a refund of SGD259.61. However,
it is still not a direct flight
. As communicated several times with the supervisor of ZUJI over the phone, our priority is still to fly my sister's staff directly to his hometown. We may be looking for discounted fare, but we value the time of her staff more. Furthermore, the short 50 minutes transit time is risky for two reasons, my friend who flies frequently on business trips advised. First of all, Hong Kong airport is big to start with and secondly there must be no delay for first leg.
So ZUJI, thank you once again for the not so good memories, twice in a roll. As mentioned in my previous post, the transaction shouldn't have gone through if seats were not available anymore. Or customer should be placed on a waiting list for the original flight requests and discounted fare be secured for them once seats are available again. I went to ZUJI's Singapore Facebook page and apparently, similar case has also happened recently on 21 September. Before posting this, I decided to search for the flight again and guess what?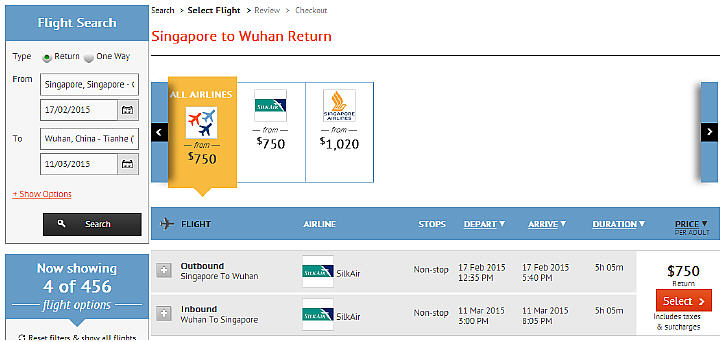 You have used your second chance ZUJI and as of today, JOURNEY will terminate its affiliate partnership with ZUJI Singapore.