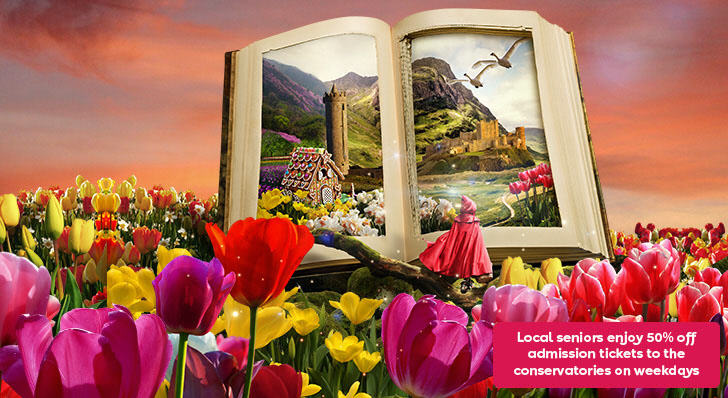 More than 40 varieties to be featured over the next few weeks
Singapore's annual tulip festival, Tulipmania, blooms amidst a colourful setting of fairy tales at Gardens by the Bay. Back for the third time, this year's edition sees the largest variety of tulips being brought in from the Netherlands for the public in Singapore to enjoy.

Some 75,000 tulips in 43 varieties will be featured in the Flower Dome over the next few weeks of the festival, which runs till 10 May. Visitors young and old can delight in a myriad of blooms including the "Red Riding Hood", the "Purple Prince" and the "Orange Princess", against a backdrop of familiar fairy tale scenes such as Cinderella's carriage and the gingerbread house from Hansel and Gretel. This year, Gardens by the Bay has also brought in a purple tulip cultivar named "Tulipa cv. Singapore."

In conjunction with Tulipmania, local senior citizens enjoy 50% off weekday admission tickets to the cooled conservatories (terms and conditions apply). Visitors can also look forward to thematic programmes, including a tulip floral arrangement workshop in celebration of Mother's Day, as well as contests and giveaways by official airline partner KLM Royal Dutch Airlines.
Interesting facts on Tulipmania
– The tulips that you see at Tulipmania have been growing for over four years in the Netherlands. Tulip bulbs are typically harvested after four annual growing cycles as that is when they produce the most impressive blooms. They are transferred to a cold storage where they are kept at 2°C for 9-14 weeks, for the growth and development of roots. Thereafter, they are incubated in a greenhouse at 10-15°C for 3-4 weeks, for further growth. During this time, the tulip bulbs sprout, producing about three leaves or more. This is when they will be gathered and packed for their journey to Singapore.

– The journey from the farm in the Netherlands to Gardens by the Bay in Singapore spans more than 10,000km. As tulip bulbs do not last long outside their natural environmental conditions, they are flown and delivered to the Flower Dome in less than 24 hours. During freight, the cargo is kept at 2-4°C.

– Upon the arrival of tulip bulbs, the Gardens by the Bay team gets down to planting. 60 staffs and volunteers helped to put this year's floral display together, from setting up the props to planting the bulbs.

– Once the bulbs have been planted, they take about 3-5 days to bloom. With proper care and growing conditions, the blooms can last up to 12 days. Measures taken to ensure optimal conditions for the tulips include the adjustment of temperature in the Flower Dome. During the Tulipmania period, the temperature is lowered from the normal 23°C to 18°C. At night, the temperature drops further to 13°C.

– Tulipmania 2015 will feature 43 varieties of tulips over seven weeks. This is an increase from the initial 9 varieties in 2013 and 20 varieties in 2014.
Examples of Tulip Cultivars at Tulipmania 2015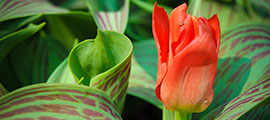 Tulipa cv. 'Red Riding Hood'

No prizes for guessing the reason for its name! The Tulipa cv. 'Red Riding Hood' features scarlet red petals that add a burst of colour to any floral display.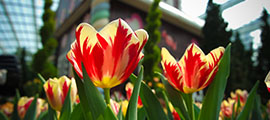 Tulipa cv. 'Grand Perfection'

When it first blooms, the Tulipa cv. 'Grand Perfection' starts off yellow with a red flame. As its bloom matures, the yellow gradually fades to a white.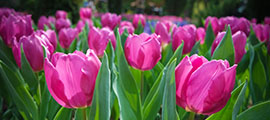 Tulipa cv. 'Purple Prince'

This cultivar is a single flowered tulip, regal purple in colour with a golden eye in the centre of the flower. They are also suitable as cut flowers.

Be sure to catch all the other varieties of tulips including one particular variety which is named after our very own tropical island of Singapore.
Activities and Highlights at Tulipmania
FAIRYTALES ALIVE

Immerse yourself in a land of fairy tales set among fields of beautiful tulips. Meet popular fairy tale characters here in the Flower Dome, and take a photo with them as a special memento. Don't miss a special short dance performance here at the Flower Dome, and do look out for fairy tale characters on stilts.

Date: Saturday, 25 April – Sunday, 26 April
Time: 11am to 5.30pm (special performances at 1pm, 2pm & 3pm)
Location: Flower Dome

TULIPS FOR MUMS: FLORAL ARRANGEMENT WORKSHOP*

Make this Mother's Day a memorable one for you and your mum! Spend quality time with her and create a flower bouquet using Tulips from our floral display. Add splashes of colour to this special day with the masterpiece both of you have created!

Date: Saturday, 9 May
Time: 1pm – 2.30pm
Location: Cannonball Room
Details:
– $80 per floral bouquet. Programme cost includes materials.
– Friends of the Gardens are entitled to a 15% discount.
– Visit www.gardensbythebay.com.sg to register by 3 May 2015. Advanced registration and payment are required as limited slots are available. Walk-ins will not be entertained.
– For enquiries, please email [email protected] or contact 6420 6843.

* Tulips for Mums: Floral Arrangement Workshop is part of "Mum's The Word", a series of programmes to celebrate Mother's Day. Click here more details!

TULIP GIVEAWAY

5,000 tulips will be given away in the Flower Dome on 26 April, as part of KLM's celebration of Koningsdag, an annual holiday in The Netherlands. This tulip giveaway is made possible by KLM Royal Dutch Airlines. While stocks last!

Date: Sunday, 26 April
Timing: Please check www.gardensbythebay.com.sg for timing closer to date.
Location: Flower Dome

GARDENS BY THE BAY – WISH A TRIP

The KLM Fairy is dropping by Tulipmania to grant a wish to 1 lucky visitor for a pair of air tickets to Europe. To participate, snap a creative pose with your favourite fairytale character on display in the Flower Dome and tell us why you love Tulipmania! Then, upload the photo and creative caption on Instagram with the contest hashtags #GBWishATrip #GBTulipMania and #KLM.

This Instagram Contest is made possible by KLM Royal Dutch Airlines.
Date: until Sunday, 26 April
Terms & Conditions: Click here for full Terms & Conditions of contest!
______________________________________

So head over to "Tulipmania", the second of six chapters in Gardens by the Bay's storytelling journey in 2015. This enchanting series of floral displays for the year will draw you into the magical world of folklore, legends, fairy tales and nursery rhymes as told through the language of plants.

Check out these tours and places to visit in Singapore too:
– The Original Singapore Walks
– 4 Amazing Wildlife Parks in Singapore to Visit



Founder of Symphony of Love. He finds meaning in inspiring love, peace and happiness.