Search now and earn with Agoda PointsMAX
Choose from over 120,000 accommodations on Agoda, and book to earn extra points or miles from your favorite loyalty program. With PointsMAX, Agoda gives you yet another great reason to book your hotel with them. Quoting a friend, "I want to make my booking worth."
What is PointsMAX?
Agoda PointsMAX is a new simple way to earn benefits when you book accommodation on Agoda.com. All you have to do is to choose your favorite loyalty program, and you can start to earn points or miles toward that program with every booking you make.
How does PointsMAX work?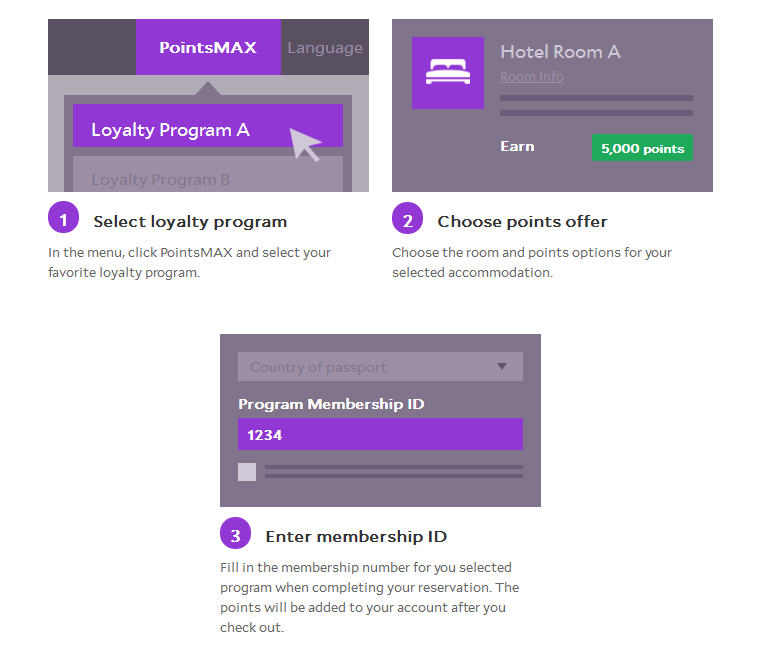 1. In the menu, click PointsMAX and select your favorite loyalty program.
2. Choose the room and points options for your selected accommodation.
3. Fill in the membership number for you selected program when completing your reservation. The points will be added to your account after you check out.
Partner Programs
Select your preferred loyalty program below to view the points you can earn.
Some important notes on all PointsMAX bookings
The membership ID of the intended beneficiary of the third party points must belong to the guest staying at the hotel (identified by the lead guest name);
The rates for PointsMAX bookings may be different from regular bookings at the same conditions;
PointsMAX booking rates cannot be broken down into a room rate and points component;
Any applicable cancellation policy will apply in full to the PointsMAX bookings;
Only reward points or miles can be collected, no status points or credits;
PointsMAX bookings cannot be adjusted online using the Agoda self-service tool or by contacting Customer Service . To amend your reservations, you will need to cancel (subject to the cancellation conditions of the reservations ) and re-book your reservation. Cancelled reservations will not earn points, regardless of the financial cancellations conditions;
Points cannot be exchanged in cash and are not cumulative with other offers;
The Agoda price guarantee does not apply to PointsMAX bookings; and
The terms and conditions of the third party loyalty programs will apply to such program.
Search and book to earn extra points from your favorite loyalty program with Agoda PointsMAX now!