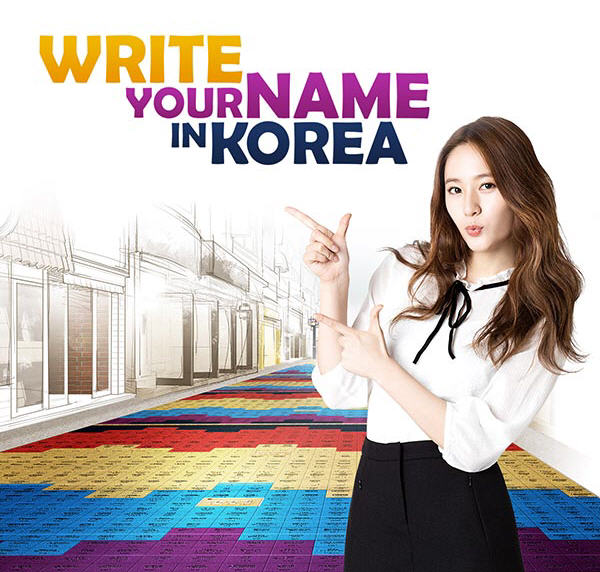 Photo credit: Imagine Your Korea
Have your name engraved on a road in Korea, and get a chance to win a free trip to Korea!
Now you can have your name engraved on the road in Korea, just like those names of famous movie stars on the Walk of Fame in Hollywood; you can not only write your name in Korea but you may also win a free trip to Korea!
Don't miss this unique chance to make your name forever engraved on the road in Korea! This is a global tourism campaign conducted by Korea Tourism Organization and they are inviting all who love Korea and wish to visit Korea one day to participate in this campaign.
By participating in the event, you will be able to have your name engraved on Sang Sang Gil (literally meaning "Imagination Road" in Korean) and take the first step toward making your imagination about Korea come to life!
Sang Sang Gil is located in the city of Changwon on the South coast of Korea. Building upon its rich history, the city of Changwon has become a cultural hot spot for up-and-coming artists, especially in areas like Changdong Art Village, which is full of tradition and artistic content. Now you can also become part of Korean culture and history by making your name engraved on Sang Sang Gil through this "Write your name in Korea" campaign.
The official submission period is from August 20 – September 10, 2015. Among the participants, 23,000 people will be selected on a first-come-first-served basis and included in the construction of Sang Sang Gil. The names of the people who could not be included in the 23,000 people selected will be added to nearby areas of Sang Sang Gil.
Win a trip to Korea
Prize: 4 days and 3 nights travel package to Korea
(6 teams of 12 people in total) which includes:
2 Round-trip flight tickets to Korea
Accommodations for 2 nights in Seoul and 1 night in Changwon
One day tour of Sang Sang Gil in Changwon
Winner Selection:
One winner will be randomly selected every week. Six winners will be selected in total. Winners must visit Korea by October 28, 2015, based on the arrival date.
So what are you waiting for? I have already submitted my name. Submit your name at Imagine Your Korea now and be among the first 23,000 to have your name engraved on Sang Sang Gil.