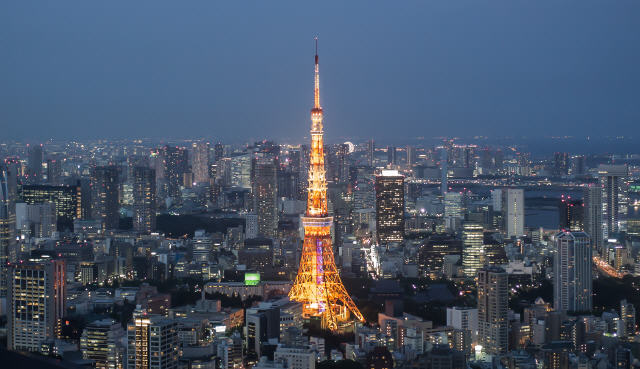 Photo credit: Wataru Ono
Tokyo, one of the world's most populous metropolises and also the host for 2020 Olympic Games, is the capital city of Japan. Tokyo offers a wide choice of shopping, entertainment, culture and gastronomic experience to its visitors. With so much you can explore and so little time, this list of 10 must see in Tokyo will help you to narrow down your scope when planning your first trip to Tokyo.
10 must see in Tokyo
1. Tokyo Skytree
Tokyo Skytree is a broadcasting, restaurant, and observation tower in Sumida, Tokyo, and the tallest structure in Japan. At a height of 634.0 metres (2,080 ft), it is currently the second tallest structure in the world after Burj Khalifa (829.8 m/2,722 ft). The Tokyo Skytree offers an awesome experience of this metropolis from two separate observation decks (open 08:00 to 22:00 daily) and you can see all the way to Mount Fuji on a clear day.
2. Asakusa (浅草)
This downtown area, in Taitō, Tokyo, Japan, is home to the famous Buddhist temple Sensōji dedicated to the bodhisattva Kannon. This elegant religious complex contains a five storey pagoda and a Buddhist temple which has been lovingly maintained and is often packed with locals and tourists. Asakusa has retained the ambiance of its past glory as an entertainment district during the Edo period (17th-19th century). Instead of gleaming high rises and office towers, Asakusa is full of wooden shop houses and beautifully preserved shrines.
3. Tokyo Disneyland
Home to all the classic characters and rides (and Cinderella Castle, of course) found in the American original, the whole park is split into two sections: Disneyland and DisneySea, an ocean-themed park exclusive to Japan. With 17.3 million visits in 2014, Tokyo Disneyland is the second most visited theme park in the world behind Walt Disney World's Magic Kingdom; DisneySea follows in fourth place behind the original Disneyland with 14.1 million visits. Disneyland is a place for soaking up the magic of Disney, especially during the parade, whereas DisneySea has the newer rides, such as Toy Story Mania and Monsters Inc. Certainly a classic family activity when in Tokyo and if you like Disney stuff, this world famous amusement park will no doubt impress. Although technically in Chiba Prefecture, access to the park from downtown Tokyo is quite easy, thanks to Tokyo Disneyland Station located directly in front of the entrance.
4. Meiji Shrine
Meiji Shrine (明治神宮), located in Shibuya, in central Tokyo, is the Shinto shrine that is dedicated to the deified spirits of Emperor Meiji and his wife, Empress Shōken. It is surrounded by an impressive forest of a reported 120,000 trees, making this a relaxing spot in the otherwise densely built-up city. The spacious shrine grounds offer walking paths that are great for a relaxing stroll.
5. Shibuya Crossing
Shibuya (渋谷区 Shibuya-ku) is famous for its six-way crossing, otherwise known as 'The Scramble,' in front of Shibuya Station. Once the green man starts flashing, people come from all directions at once – sometimes over a thousand with every light change. Three large TV screens mounted on nearby buildings overlook the crossing, as well as many advertising signs. The Starbucks on the 2nd floor of the Q-front building offers a hypnotic view of this crossing; if you are lucky enough to get a seat.
6. Tsukiji Fish Market
If you can handle the early start, Tsukiji Fish Market (築地市場) is a memorable attraction in Japan. It is a large wholesale market for fish, fruits and vegetables in central Tokyo and the most famous of over ten wholesale markets that handle the distribution of fish, meat, produce and flowers in Tokyo. Although not a tourist attraction, the sight of the many kinds of fresh fish and other seafood, and the busy atmosphere of scooters, trucks, sellers and buyers hurrying around, draw tourists to Tsukiji Market. One of the world's largest fish markets, Tsukiji Fish Market handles over 2,000 tons of marine products per day with auctions of the best fish happening from 05:00-09:00 every morning. There are plenty of sushi restaurants surrounding the market and as you would expect, prices are just about the best you can get. It is scheduled to move to a new site in Toyosu in November 2016.
7. Ueno Park and Zoo
Ueno Park (上野公園) is a huge urban park in downtown Tokyo that is home to a range of attractions such as Tokyo Metropolitan Art Museum, Kaneiji Temple and the National Science Museum. If you are here in March-April, you will also be able to experience one of the finest hanami (cherry blossom viewing spots) in Tokyo. Found also in Ueno Park is the Ueno Zoo (恩賜上野動物園, sometimes referred to as Tokyo Zoo) – Japan's oldest zoo. Ri Ri and Shin Shin the panda bears are the star attractions, although the variety of animals is simply superb. The Ueno Zoo opens daily from 09:30 to 17:00 (closed on Monday).
8. Shinjuku Golden Gai
Shinjuku Golden Gai (新宿ゴールデン街) is a small area of Shinjuku, Tokyo, Japan, famous both as an area of architectural interest and for its nightlife. It is composed of a network of six narrow alleys, connected by even narrower passageways which are just about wide enough for a single person to pass through. "A hub of tiny drinking dens, after-dark establishments and a relic of old Toyko, Shinjuku Golden Gai is a great spot to hit a few bars in a uniquely Japanese environment," according to
Asia Web Direct
. Although a little sleazy, it is also safe for inquisitive foreigners who want to see where locals go to drink and unwind. Activities start after 22:00 and if you fancy bar-hopping Tokyo style, this is the place. Order some yakitori (chicken skewers), select a song on the karaoke machine, and perfect your "Kampai" in Shinjuku Golden Gai.
9. Harajuku (原宿) Shopping Boutiques
Harajuku is a significant fashion and shopping district in Tokyo, which is famous for its street fashion and fashion shops in Takeshita Dori and Omotesando (streets). This is also the location of cosplay meetups, which takes place on the bridge next to Harajuku Station on Sunday afternoons. Here many young Japanese dress in costumes to look like their favorite Japanese rock stars or anime characters. It is certainly uniquely Japanese!
10. Tokyo Tower
Tokyo Tower (東京タワー) measuring 332.9 metres (1,092 ft), is a communications and observation tower located in the Shiba-koen district of Minato, Tokyo, Japan, and is also the second-tallest structure in Japan. The structure is an Eiffel Tower-inspired lattice tower that is painted white and international orange to comply with air safety regulations. FootTown, a four-story building located directly under the tower, houses museums, restaurants and shops. Departing from there, guests can visit two observation decks. The two-story Main Observatory is located at 150 metres (490 ft), while the smaller Special Observatory reaches a height of 249.6 metres (819 ft). This bright orange observation tower is a popular tourist attraction thanks to the fantastic bird's eye views.
_____________________________________
Whichever you have chosen would of course depend on the type of experience you seek but this list of popular attractions in Tokyo would give you some good ideas in planning your first trip in Tokyo. Do you know any other place in Tokyo which is a must see for first timer? Do feel free to let me know through the comment below.
Find hotel deals in Tokyo
Reference: Asia Web Direct