25 places that look out of this world but are actually real
The world is full of wonderful and amazing places that look out of this world. These 25 places would make you wonder if they are actually real. From crystal cave to the lost world, from the gate of hell to heavenly cave, from hills of chocolate to nature's orchestral, it's no wonder Ross Morley said, "Travel is like a giant blank canvas, and the painting on the canvas is only limited by one's imagination." Could you imagine these places? And yes, these places are all real!
1. Crystal Cave Svínafellsjökull, Skaftafell, Iceland
This Crystal Cave is located on the frozen lagoon of the Svínafellsjökull glacier in Skaftafell, Iceland. According to
Örvar Atli Þorgeirsson
, "
Ice caves are in general unstable things and can collapse at any time. They are however much more stable in winter when the cold temperatures harden the ice. Even so we could hear constant cracking sounds inside the cave. It was not because it was going to collapse but because the cave was moving along with the glacier itself. Each time the glacier moved a millimeter loud sounds could be heard.
"
2. Mount Roraima, Canaima National Park, Venezuela
Mount Roraima, the lost world of Venezuela
, also known as Tepuy (Spanish for table-top mountain) Roraima and Cerro Roraima; the highest of the Pakaraima chain of tepuy plateau in Venezuela, on the northern coast of South America. The mountain's highest point is Maverick Rock, 2,810 metres (9,219 ft), at the south end of the plateau. According to
wikitravel
, "
The only way visitors can climb to the top is from the Gran Sabana side, in Venezuela.
"
3. The Great Blue Hole, Belize
The Great Blue Hole
, located just 100 kilometers (60 miles) off the coast of Belize, is a large submarine sinkhole that researchers believe to be the largest of its kind. It lies near the center of Lighthouse Reef. The hole is circular in shape, over 300 m (984 ft) across and 124 m (407 ft) deep. The Great Blue Hole is a part of the larger Belize Barrier Reef Reserve System, a World Heritage Site of the United Nations Educational, Scientific and Cultural Organization (UNESCO).
4. The Door to Hell, Derweze, Turkmenistan
The Door to Hell
is a natural gas field in Derweze (also spelled Darvaze, meaning "gate"), Ahal Province, Turkmenistan. The Door to Hell is noted for its natural gas fire which has been burning continuously since it was lit by Soviet petrochemical engineers in 1971. It is still going, over 40 years later.
5. Thien Cung Grotto, Halong Bay, Vietnam
Thien Cung Grotto (Heavenly Cave)
is situated on Dau Go Island (Wooden Stakes Island) in the southwestern Halong Bay and about 4 kilometers from tourism wharf. At the height of 25 meters above the sea level, the opening entrance to Thien Cung Grotto requires the visitors to hike up there. However, once entering the cave, you'll feel like visiting an art museum with sophisticated flows of stalactites and stalagmites.
6. Yuanyang Rice Terraces, Yuanyang County, Southern Yunnan Province, China
Yuanyang Rice Terraces
, covers 16,603-hectares in Southern Yunnan. It is marked by spectacular terraces that cascade down the slopes of the towering Ailao Mountains to the banks of the Hong River. Over the past 1,300 years, the Hani people have developed a complex system of channels to bring water from the forested mountaintops to the terraces. They have also created an integrated farming system that involves buffalos, cattle, ducks, fish and eel and supports the production of red rice, the area's primary crop. The resilient land management system of the rice terraces demonstrates extraordinary harmony between people and their environment, both visually and ecologically, based on exceptional and long-standing social and religious structures. (
Source
)
7. Chocolate Hills, Bohol, Philippines
The Chocolate Hills
is a geological formation in Bohol Province, Philippines. They look like giant mole hills and don't they remind us of the hills in a small child's drawing. There are at least 1,260 hills, mostly between 30 and 50 meters high, spread over an area of more than 50 square kilometres (20 sq mi). They are covered in green grass, which, at the end of the dry season, turns chocolate brown. From this color, the hills derive their name.
8. Red Beach, Panjin, Liaoning Province, China
Red beach
which is located in Panjin, Liaoning province, China. Unlike the usual beaches, the Red Beach doesn't have red sand. The redness comes from a type of seaweed that flourishes in the saline-alkali soil. It starts growing during April and May and stays green during the summer, but when autumn comes it starts turning vividly red.
9. Antelope Canyon, Navajo land near Page, Arizona, United States
Antelope Canyon
is a slot canyon located on Navajo land near Page, Arizona. It includes two separate, photogenic slot canyon sections, referred to individually as Upper Antelope Canyon or The Crack; and Lower Antelope Canyon or The Corkscrew.
The Navajo name for Upper Antelope Canyon is Tsé bighánílíní, which means "the place where water runs through rocks." Lower Antelope Canyon is Hazdistazí (advertised as "Hasdestwazi" by the Navajo Parks and Recreation Department), or "spiral rock arches." Both are located within the LeChee Chapter of the Navajo Nation. (
Wikipedia
)
10. Zhangjiajie National Forest Park, Hunan Province, China
The Zhangjiajie National Forest Park
is located in Zhangjiajie City in northern Hunan Province in the People's Republic of China. It is one of several national parks within the Wulingyuan Scenic Area. The most notable geographic features of the park are the pillar-like formations seen throughout the park, which are the result of many years of erosion. The weather is moist year round, and as a result, the foliage is very dense. Much of the erosion which forms these pillars are the result of expanding ice in the winter and the plants which grow on them.
One of the park's quartz-sandstone pillars, the 1,080-metre (3,540 ft) Southern Sky Column, had been officially renamed "Avatar Hallelujah Mountain" in honor of the eponymous film in January 2010. The film's director and production designers said that they drew inspiration for the floating rocks from mountains from around the world, including those in the Hunan province. (
Wikipedia
)
11. Hang Son Doong Cave, Phong Nha-Ke Bang National Park, Vietnam
Hang Son Doong Cave
is a solutional cave in Phong Nha-Ke Bang National Park, Vietnam. The name "Hang Son Doong" means "mountain river cave." It is said to be the world's largest cave. A local found the cave in 1991 but the steep descent prevented the local people to enter the cave. It was only internationally known after a group of scientists from the British Cave Research Association, led by Howard and Deb Limbert, conducted a survey in Phong Nha-Ke Bang in 2009. According to
National Geographic
, "
There's a jungle inside Vietnam's mammoth cavern. A skyscraper could fit too. And the end is out of sight.
"
12. Kaieteur Falls, Kaieteur National Park, Guyana
Kaieteur Falls
is located on the Potaro River in Kaieteur National Park, central Essequibo Territory, Guyana. According to
Kaieteur National Park
, "
The Falls has a sheer drop of 226 meters (741 feet) … a total height of 251 meters (822 feet).
" While many falls have greater height, few have the combination of height and water volume, and the falls are among the most powerful waterfalls in the world with an average flow rate of 663 cubic metres per second (23,400 cubic feet per second). (
Wikipedia
).
According to Wikipedia, there are two interesting legends on how the Kaieteur Falls got its name. One said, "
Kaieteur Falls was named for Kai, a chief, or Toshao who acted to save his people by paddling over the falls in an act of self-sacrifice to Makonaima, the great spirit.
" The other said, "
Kaieteur has been named after an unpleasant old man who was placed in a boat and shoved in the fall by his relatives. Thus the fall was named "Kaieteur" what means – "old-man-fall".
"
13. Pamukkale, Turkey
Pamukkale
, which has been used as a spa since the second century BC, literally means "cotton castle" in Turkish. The travertine features have their origins in the shifting of a fault in the valley of the Menderes river (between here and Denizli). As the fault shifted, very hot springs with a very high mineral content (notably chalk) arose at this location. Apart from the slightly radioactive minerals, the calcium and hydrogen carbonate react to create calcium carbonate (also known as travertine) and limestone. This is what gives Pamukkale its whiteness and created the pools. It can get quite hot in summer, a hat and especially sunglasses will certainly be very helpful against the sun and the reflecting sun rays from the chalky cascades. On the other hand, the cold winter climate could make the experience slightly uncomfortable. Climbing up the cascades barefoot, with cold water running downstream will be a tough task. (
Wikitavel
)
14. Hitachi Seaside Park, Japan
Hitachi Seaside Park
is a public park in Hitachinaka, Ibaraki, Japan. Covering an area of 190 hectares, the park features blooming flowers around the year. The park has become known for its baby blue-eyes flowers, with the blooming of 4.5 million of the translucent-petaled blue flowers in the spring drawing tourists. In addition to the annual "Nemophila Harmony", the park features a million daffodils, 170 varieties of tulips, and many other flowers. The park includes cycling trails and a small amusement park with a Ferris wheel. (
Wikepedia
)
15. Sagano Bamboo Forest, Arashiyama area of Kyoto, Japan
Sagano Bamboo Forest
, also known as the Sagano Bamboo Grove, is located in Arashiyama, a district on the west outskirts of Kyoto. Covering an area of 16 square kilometers, this Bamboo forest is one of the most beautiful and picturesque natural sites in Japan that will surely give you a feeling that is out of this world. One other thing not to be missed when you are walking through it is the natural orchestra of the wind blowing through the bamboo forest. In fact this nature's music has been voted as one of the "one hundred must-be-preserved sounds of Japan" by the Japanese government. Be sure not to miss the Sagano Bamboo Forest which is just around 30 minutes by train from Kyoto.
16. Gullfoss Waterfall, Iceland
Gullfoss
(Golden Falls), located in the canyon of Hvítá river, is Iceland's most famous waterfall. The wide Hvítá rushes southward. About a kilometre above the falls it turns sharply to the right and flows down into a wide curved three-step "staircase" and then abruptly plunges down two steps, one 11 m high, and the other 22 m, into the 2.5 km long canyon below. The average amount of water running over this waterfall is 140 m³/s in the summertime and 80 m³/s in the wintertime. The highest flood measured was 2000 m³/s. As one first approaches the falls, the crevice is obscured from view, so that it appears that a mighty river simply vanishes into the earth. The crevice, about 20 m (60 ft) wide, and 2.5 km in length, extends perpendicular to the flow of the river. (
Wikipedia
)
17. Canola (Rapeseed) Flower Fields, Luoping, China
An amazing sea of golden flowers that looks out of this world but is actually real. This
Canola (Rapeseed) flower field
is located in the county of Luoping in eastern Yunnan, China. This sea of golden beauty will lasts until late June every year and is a naturally magnet attracting photographers from all over the world. During high travel season, there are regular buses leaving from Kunming's bus stations on an almost hourly basis. Accommodation in Luoping ranges from cheap 10-yuan boarding houses to more expensive star-rated hotels.
18. Makepeace Island, Australia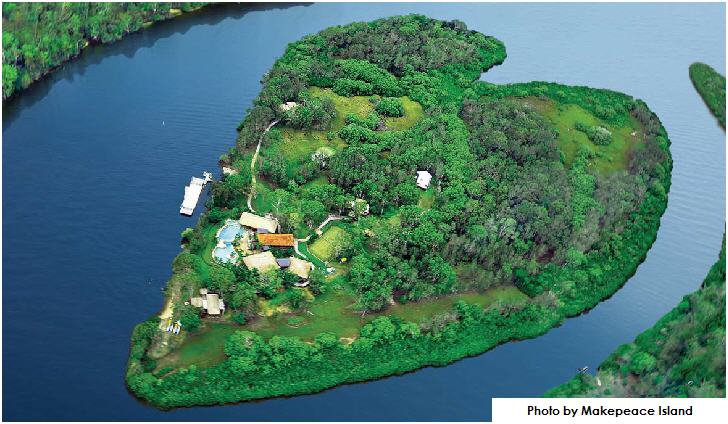 No kidding! This looks out of this world island is real! Makepeace Island is a small heart shaped private hideaway a few minutes upstream from cosmopolitan Noosa Heads and is owned by Sir Richard Branson and Virgin Blue (Australia) co-founder Brett Godfrey. It is also Sir Richard Branson's Australian home and can hold up to 22 guests accommodated in three 2-bedroom villas and a 4 bedroom Bali House wing. The property has a tennis court, theatre, two-storey Balinese Wantilan, 500,000-litre pool and indoor bar and dining area.
19. Santorini, Greece
Truly wow!
Santorini
(classically Thera, and officially Thira), is an island in the southern Aegean Sea, about 200 km (120 mi) southeast of Greece's mainland. It is the largest island of a small, circular archipelago which bears the same name. The island is the site of one of the largest volcanic eruptions in recorded history: the Minoan eruption (sometimes called the Thera eruption), which occurred some 3600 years ago. And this is where
Cousteau looked for the lost city of Atlantis here. On Santorini.
According to
Greek all time classic
, Santorini islands is still an active volcano and probably the only volcano in the world whose crater is in the sea.
20. Horsetail Fall, Yosemite National Park, California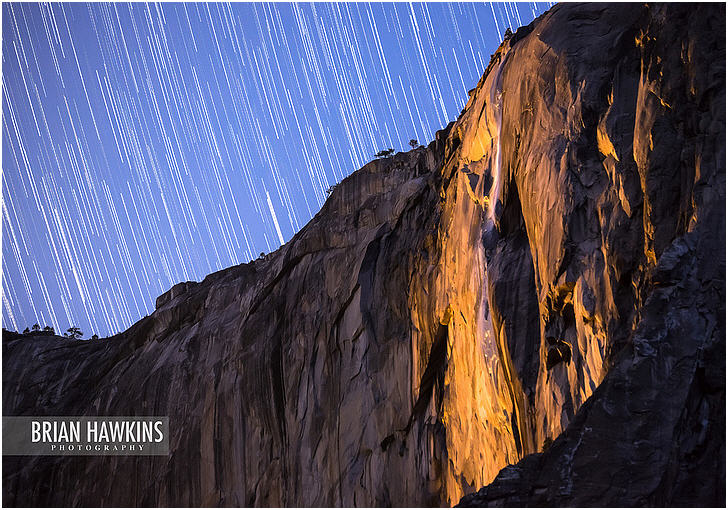 Every year around the second week of February, hundreds of spectators gather in Yosemite hoping to witness this spectacular natural Firefall. However, not all are lucky as they may not witness this amazing event if the conditions are not right.

According to Yosemite Firefall, "Horsetail Fall must be flowing. If there's not enough snowpack in February, there will not be enough snowmelt to feed the waterfall … temperatures must be warm enough during the day to melt the snowpack. If temperatures are too cold, the snow will stay frozen and Horsetail Fall won't flow … the western sky must be clear at sunset. If it's snowing, raining, or even just cloudy, the sun's rays will be blocked and Horsetail Falls will not light up." If everything comes together and conditions are just right, the Firefall will light up for about ten minutes. To see Horsetail Fall glowing blood red is an almost supernatural experience.
21. Deadvlei, Namib-Naukluft Park, Namibia
Looks like a scene in a dream or a painting? This is
Deadvlei
, a white clay pan, inside in the Namib-Naukluft Park in Namibia. Also written DeadVlei or Dead Vlei, its name means "dead marsh" (Vlei being Afrikaans for a type of marsh). According to
Atlas Obscura
, Deadvlei is surrounded by some of the highest sand dunes in the world, some of which, tower at 1,312 feet high. Could this surrealistic landscape of Deadvlei possibly be the most beautiful 'dead' place you will ever see?
22. Grand Prismatic Spring, Yellowstone National Park, Wyoming
Rainbow pool?
Grand Prismatic Spring
, located in Midway Geyser Basin, in Yellowstone National Park, the park's largest hot spring. It is also the largest in United States and third largest in the world, according to Wikipedia. From the official site of
Yellowstone National Park
, it measures approximately 370 feet (112.8 m) in diameter and is over 121 feet (37 m) deep. The vivid colors in the spring are the result of pigmented bacteria in the microbial mats that grow around the edges of the mineral-rich water.
23. Petra, Jordan
"a rose-red city half as old as time" – John William Burgon
Imagine taking a slow walk through a dark, narrow gorge for about 30 minutes over one kilometre, flank on either side by soaring high cliffs. As you reach the end of the gorge you will catch your first glimpse of Al-Khazneh (Treasury) at
Petra
. Petra, sometimes called the Lost City, is literally carved directly into vibrant red, white, pink, and sandstone cliff faces.
This Lost City made its Hollywood debut in 1989 in "Indiana Jones and the Last Crusade," starring Harrison Ford. Several scenes were filmed in Petra. The movie's fictional Canyon of the Crescent Moon was modeled on the eastern entrance to Petra, a sandstone slot canyon known as the Siq.
24. Manarola, Cinque Terre, Italy
Not exactly out of this world, but
Manarola
(Manaea in the local dialect) is definitely one of the most beautiful towns in Cinque Terre especially at night. Cinque Terre is a rugged portion of coast on the Italian Riviera comprising five villages: Monterosso al Mare, Vernazza, Corniglia, Manarola, and Riomaggiore. The coastline, the five villages, and the surrounding hillsides are all part of the Cinque Terre National Park and is a UNESCO World Heritage Site.
25. Bac Son (Bắc Sơn) Valley, Vietnam
Bac Son
is a picturesque valley in a rural district of Lạng Sơn Province in the Northeast region of Vietnam.
_________________________________
As I compiled these 25 beautiful places that look out of this world, I really felt an urge to visit most of these places, if not all. I hope you did too when going through them and do share this with the people you'd love to travel with! Do you know of any place in mind, which I missed out, that looks out of this world but are actually real too?